Putin: Donald Trump is 'Brilliant,' Russia Welcomes His Presidency (UPDATED)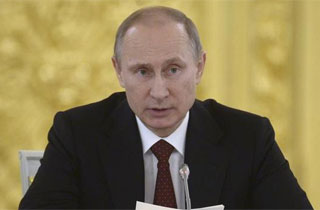 Russian President Vladimir Putin gave a glowing endorsement of Republican presidential candidate Donald Trump Thursday, saying that his presidency would lead to close relations between the two countries.
Putin reportedly made the comments following his weekly press conference. "After the conference, Putin said that Donald Trump is a very bright and talented person and the absolute leader of the presidential race," Russian news service Interfax tweeted out.
If you speak Russian, here's the video of Putin making the comments.
"He's a really brilliant and talented person, without any doubt. It's not our job to judge his qualities, that's a job for American voters, but he's the absolute leader in the presidential race," Putin said, according to a translation from Buzzfeed.
"He says he wants to move on to a new, more substantial relationship, a deeper relationship with Russia, how can we not welcome that? Of course we welcome that," he continued.
In September, Trump said that he knew Putin "very well" after they both appeared on 60 Minutes.
UPDATE — 6:20 p.m. ET:
Trump responded to Putin's praise Thursday, telling a rally audience that it is a "great honor" to be complimented by the Russian president.
"It is always a great honor to be so nicely complimented by a man so highly respected within his own country and beyond," Trump said.
"I have always felt that Russia and the United States should be able to work well with each other towards defeating terrorism and restoring world peace, not to mention trade and all of the other benefits derived from mutual respect," he added.
Presidential candidate Lindsey Graham blasted his rival on Twitter, arguing that Putin does not deserve praise from the Republican frontrunner.
Just when you think it can't get worse: A leading American candidate for President praising Putin.

— Lindsey Graham (@LindseyGrahamSC) December 17, 2015
I suggest Mr. Trump visit the Ukraine and Syrian refugee camps to see if Putin is really respected and deserves praise.

— Lindsey Graham (@LindseyGrahamSC) December 17, 2015
[Image via screengrab]
——
>>Follow Alex Griswold (@HashtagGriswold) on Twitter
Have a tip we should know? tips@mediaite.com