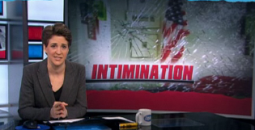 First off, no Rachel Maddow is not running for election, though note to future prospective politicians: misdirected DM's from possible supporters is apparently a great way to test the waters! However Maddow seemed more intent on spending the better party of her show pointing out that in the wake of Sunday's health care vote, the tea party is not over. By a long shot. The question now is, are they getting violent?
Maddow reports on a number of incidents nation-wide where it appears people opposed to the health care bill are using violent means to express their displeasure. All of the incidents (five) involve bricks being thrown through Democratic party office windows, one with an anti-Obama message attached to it (a Barry Goldwater quote, to be exact: "Extremism in defense of liberty is no vice"). The FBI is also reportedly investigating threats made against Louise Slaughter's family.
Apparently, all this brick throwing is the idea of Mike Vanderboegh, the former head of the "Alabama Constitutional Militia " who on his website wrote that "we can break their windows…before we have to resort to rifles to resist their well-intentioned tyranny." Clearly anti-government, though not anti enough, Maddow points out, to refuse his social security check. The question Maddow is really asking, however, is whether this is a sign of what's to come. Will the anti-government protesters be emboldened by this recent vote, and strident rhetoric to take it to the next step. Or, are these just the regular crazies enjoying their day in the sun. Video below.

Have a tip we should know? tips@mediaite.com