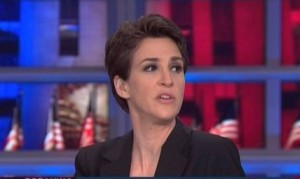 Anyone familiar with MSNBC's Rachel Maddow likely won't be surprised to hear that she chose to "come out of the closet in a very confrontational way." Her method of choice? Her college newspaper. Oh, and that's how her parents found out, too.
In a recent Newsweek piece, Maddow starts by saying she figured out she was gay as a college freshman. "I was heady with the self-importance of a 17-year-old who knows everything and is smarter than everybody," she said. "A trait that is great at the moment and really hard to live with in retrospect." And that self-importance led to her decision.
At Stanford University, she had a friend who came out around the same time and the two did an interview in the college newspaper about being the only gay freshman on campus. Maddow writes:
The mistake I made was that I had not come out to my parents. I told the paper, "I will do this on the condition that you will not run the piece until after this weekend, because I will go home this weekend to tell my parents, and I want them to hear it from me instead of reading it in the paper." And they ran it before the weekend, and indeed some anonymous person helpfully clipped the article and mailed it to my parents—and that's how my parents found out that I was gay.
Understandably, Maddow writes, her parents were "shocked and upset and hurt." It took them a while, but her "very, very Catholic" family now "couldn't be more supportive." Maddow says despite "Catholic teaching being very antigay," she believes her family's faith "gave them the strength to get over this difficult thing."
"More than 20 years later," Maddow says, "I look back and I feel emotional about it. I feel acutely angry at myself for having put myself in that position."
Have a tip we should know? tips@mediaite.com