Rachel Maddow On Conservative Media Model: "Everybody Else Is Out To Get You"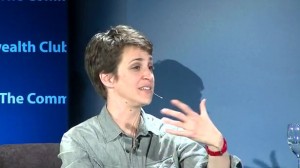 At a Commonwealth Club event in April, MSNBC host Rachel Maddow discussed why conservative media outlets are so much more successful than its liberal competitors.
Unlike her conservative competitors, Maddow explains, "I try not to imagine my audience being people who already agree with me. I, in fact, try to imagine a Republican audience."
Ah! That explains why some people think she comes off as smug. Because she's imagining us all to be Republicans! But, no, really, Maddow is a thoughtful liberal. And her thoughts on why conservative media outlets are so successful is interesting:
"I think the conservative media model involves this one really important step that liberals don't use, which is, 'listen to me, I am the light and the truth and the way, you have to believe what I say and everybody else is out to get you and you can't listen to anybody else, don't change the channel, they're trying to kill you.' Liberals don't say that. Conservatives tell their audience that."
Maddow definitely doesn't use the "looking out for you" tone of, say, Bill O'Reilly, Glenn Beck, and Sean Hannity, but she overlooks the combative, "they're all wrong" rhetoric occasionally employed by her liberal counterparts like Ed Schultz.
There's definitely an element of "you can only trust us" in the conservative media, but here's a possible reason why: for half-a-century, conservative audiences had no choice but to watch/listen to media outlets that presented the news in a generally liberal fashion. The conservative media phenomenon is most likely a reaction to that.
Maddow continued to say, "that sense of an embattled community that needs to protect itself from someone who is trying to victimize them is not part of a way liberals talk in the media."
Really? You mean left-leaning media outlets don't often talk about how Fox News misleads? And how the network allegedly wages a war on this, and a war on that?
View an excerpt of Maddow's explanation below:
Have a tip we should know? tips@mediaite.com