Rand Paul Ditches Iowa GOP Event for 'Family,' Is Then Spotted at Hamptons Party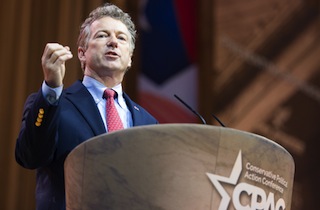 Senator and 2016 hopeful Rand Paul (R-KY) might want to stay away from image capturing devices altogether.
Just one week after the Kentucky Senator was filmed leaving Representative Steve King (R-IA) high and dry during a confrontation with an immigration activist, the Des Moines Register reported that Paul is now in trouble for pictures of him partying it up in the Hamptons with Everybody's Favorite Human Alec Baldwin after he told an an evangelical group he couldn't attend its event due to a "family commitment."
New York Post's Page Six, always a good source, reported that Paul was at the Baldwin-sponsored library fundraiser "schmoozing for free and getting tips on where to go in Montauk for a lobster roll."
RELATED: Rand Paul Tells Fox Why He Took Off from Immigration Confrontation
Paul's office told the Register he did have a family commitment in New York, and that his publisher just happened to have a house in the Hamptons, and the publisher suggested the fundraiser, and Alec Baldwin happened to be there, and so forth. (Bill O'Reilly was also in attendance.)
Bob Vander Plaats, the Family Leader president who had informed the 1,200 summit attendees of Paul's "family commitment," didn't sound amused.
"From my perspective, there are always choices to be made of where do you want to be and what message do you want to send," Vander Plaats told the Register. "If you want to be at a fundraiser in the Hamptons with the rich and famous, you probably ought to tell people you want to be at a fundraiser in the Hamptons with the rich and famous."
[h/t Des Moines Register]
[Image via Christopher Halloran / Shutterstock.com]
——
>> Follow Evan McMurry (@evanmcmurry) on Twitter
Have a tip we should know? tips@mediaite.com