Rand Paul Fires At Hillary Clinton: Benghazi Should 'Preclude Her From Higher Office'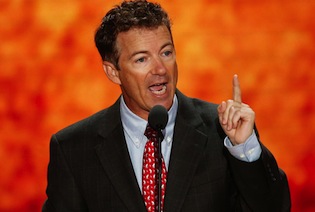 Rand Paul kickstarted his 2016 presidential ambitions at the Iowa GOP's perennial Lincoln Dinner in Cedar Rapids, Iowa, by lambasting potential Democratic frontrunner Hillary Clinton and doing a shuffle on immigration reform.
"First question to Hillary Clinton: Where in the hell were the Marines?" Paul asked the abiding crowd, referencing one of the many supposed tangles in the Benghazi affair. "It was inexcusable, it was a dereliction of duty, and it should preclude her from holding higher office."
Paul has doggedly called for Clinton's firing over the affair, including to her face during Senate testimony in January. Lately, the Kentucky senator has changed his focus from Clinton's former position as Secretary of State to her possible future one, indicating how valuable the GOP sees the Benghazi hearings in diluting Clinton's high approval rating.
The Senator was considerably less stalwart on his position on immigration. The Gang of Eight's immigration reform legislation poses a thorny path for far-right lawmakers like Paul, who risk either alienating their base by supporting reform or forfeiting the expanding Latino base by opposing it.
Paul attempted to have his reform and eat it, too, by aligning himself with Senator Charles Grassley and Representative Steve King—both of whom introduced Paul at the event, and both of whom are steadfastly against immigration reform—before adding that there was a "chance" he would vote for reform, provided the necessary security measures were added.
"We're an increasingly diverse nation, and I think we do need to reach out to other people that aren't like us, don't look like us, don't wear the same clothes, that aren't exactly who we are," Paul said. "We're going to have to do something."
Watch below:
[h/t NBC News]
Have a tip we should know? tips@mediaite.com