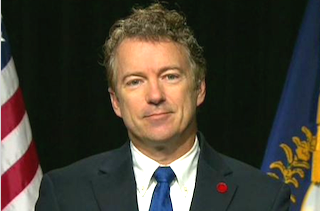 Sen. Rand Paul (R-KY) appeared on Sean Hannity's radio show Wednesday, where he delivered perhaps his most extensive comments yet on the threat posed by ISIS and what he believes the United States should be doing to combat the group.
But he also offered up his view on what has caused the growth of ISIS, a theory that differed greatly not only from that of former Secretary of State Hillary Clinton but also from Sen. John McCain (R-AZ).


"I am concerned also that I think we have to understand why ISIS was allowed to get so large and why they've been so successful," Paul told Hannity. "I think part of the reason they've gotten so large is that we have armed Islamic allies of theirs — Islamic rebels — in Syria to degrade Assad's regime and Assad then couldn't take care of ISIS."
Paul added that the "unintended consequences of being involved in the Syrian civil war" have to been to "encourage the growth of ISIS by supporting their allies," meaning those who were fighting against Syrian President Bashar al-Assad.
In an interview last month of The Atlantic's Jeffrey Goldberg, Clinton made nearly the exact opposite point. Arguing that the U.S. would have been better off arming the Syrian rebels sooner, as she urged Obama to do in 2012, Clinton said:
"The failure to help build up a credible fighting force of the people who were the originators of the protests against Assad—there were Islamists, there were secularists, there was everything in the middle—the failure to do that left a big vacuum, which the jihadists have now filled."
Similarly, just last night on Fox News, Sen. McCain appeared to agree with Clinton in saying the ISIS threat would not be as severe today had Obama decided to arm the Syrian rebels two years ago (though, of course, he slipped and said the national security team "recommended arming ISIS").
Later in the interview with Hannity, Paul attempted to dispel the notion that he is against military intervention against ISIS in Iraq or Syria. "In no way have I said that we shouldn't do anything about ISIS," he said, adding that if he were president he would hold a joint session of Congress to request approval for military action.
But he added that it is countries in the region that should take the lead on eliminating the group. "Right now, the two allies that have the same goal would be Iran and Syria, to wipe out ISIS. They also have the means and the ability and they also have the incentive to do so because Assad's clinging for power and clinging for life there," Paul said, including Turkey in the list of countries that should be "enjoined" in the effort.
"I do think that there can be a role for America," he added. "But I would rather see the president come to a joint session of Congress, asks for permission, and if he gets it, I still would like to see the ground troops and the battles being fought by those who live there. We can give both technological as well as air support. That could be the decisive factor in this."
Listen to audio below, via The Sean Hannity Show:
[h/t BuzzFeed]
[Photo via screengrab]
— —
>> Follow Matt Wilstein (@TheMattWilstein) on Twitter
Have a tip we should know? tips@mediaite.com