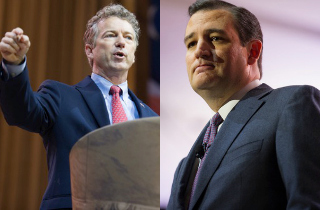 Yesterday, Mediaite pointed out that Senators and potential 2016 candidates Rand Paul (R-KY) and Ted Cruz (R-TX) were having a good ol' fashioned Reagan-Off, both using the Gipper's statements in support of opposing foreign policy positions.
Monday morning, Paul took it to the next level, writing in an "exclusive" Breitbart op-ed that, "I will remind anyone who thinks we will win elections by trashing previous Republican nominees or holding oneself out as some paragon in the mold of Reagan, that splintering the party is not the route to victory."
In an interview with ABC News' Jon Karl on Sunday, Cruz explicitly disagreed with Paul's non-interventionist foreign policy, and quoted Reagan as a warning against when "the U.S. doesn't stand for freedom."
"Every Republican likes to think he or she is the next Ronald Reagan," Paul wrote back, though he never named Cruz. "Some who say this do so for lack of their own ideas and agenda. Reagan was a great leader and President. But too often people make him into something he wasn't in order to serve their own political purposes."
Paul pointed out multiple instances in which Reagan held back on military action, and was criticized for "appeasement." He also argued that Republicans are not far apart on their responses to the situation in Ukraine, and that those who were making hay of their differences were doing to so for political advancement.
"Some politicians have used this time to beat their chest," Paul wrote. "What we don't need right now is politicians who have never seen war talking tough for the sake of their political careers."
Watch the video of the two men on their separate Sunday shows below:
[h/t Breitbart]
[Image via Christopher Halloran / Shutterstock.com / Christopher Halloran / Shutterstock.com]
——
>> Follow Evan McMurry (@evanmcmurry) on Twitter
Have a tip we should know? tips@mediaite.com