Rand Paul Lets Loose On Radio Show: 'Southern Avenger' Staffer Wasn't Racist, This Is A 'Bunch Of Crap'!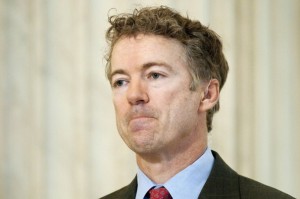 Senator Rand Paul's gotten some fair media coverage in the midst of NSA scandal season, but one news item that faded away was the revelation about Paul staffer Jack Hunter (a.k.a. The Southern Avenger), who, among other things, praised presidential assassin John Wilkes Booth and made some racially insensitive remarks. Paul defended Hunter while distancing himself somewhat from his remarks, so when reporter John Harwood confronted Paul on the radio today, he scolded his interviewer for bringing up this "crap."
RELATED: Chris Hayes To Rand Paul: 'That's Three Racist Strikes. You're Out.'
Hunter resigned a few weeks ago, but on NPR's On Point, Harwood challenged Paul's "pretty strong association with him." Paul insisted that while "many of the things he wrote were stupid," the media unfairly maligned him and falsely branded him as a racist. Paul said, "None of it was racist," and attempted to bring the conversation back to his civil libertarianism.
But Harwood continued, citing an Economist article claiming prominent libertarian politicians have risen to power with the help of alliances with "racist and nativist movements." Paul quickly shut him down before he could continue.
"Don't you have something better to read than a bunch of crap from people who don't like me? I mean, that won't make for much of an interview if I have to sit through reading after recitation of people calling me a racist."
He scolded Harwood, telling him that he would rather have an intelligent discussion than listen to "ad hominem" attacks from people who don't like him.
Listen to the audio below, via WBUR:
—–
Follow Josh Feldman on Twitter: @feldmaniac
Have a tip we should know? tips@mediaite.com
Josh Feldman - Senior Editor