Rand Paul Memo Blasts 'False Narrative' That His Campaign Is on Life Support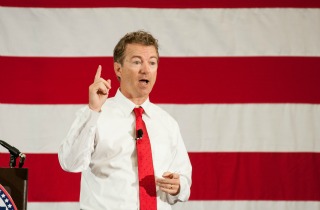 Sen. Rand Paul's (R-KY) presidential campaign fired back on Thursday at the suggestion that his campaign is on life support, claiming the political press is pushing a "false narrative" about his presidential bid hanging by loose threads.
Indeed, the Kentucky senator has undergone a gradual fall from grace. In May, Paul was in 4th place with 10 percent support among Republican primary voters, according to the RealClearPolitics national polling average. Once dubbed "the most interesting man in politics," Paul now sits in 9th place with just 2.7 percent.
In a memo sent to reporters, Paul's campaign manager Chip Englander and chief strategist Doug Stafford said they still have the "best organization in America," citing recent straw poll victories at the Conservative Political Action Conference and the Republican Leadership Caucus.
"At all of these straw polls, other contenders competed, paid for supporters, and went in to win it," Englander and Stafford wrote in the memo. "Each time they failed."
In New Hampshire, Paul is in 9th place with just 3.3 percent support, even as the campaign touts that Paul has visited the state more than most of the other candidates.
"Like John McCain in 2008, Senator Paul's campaign isn't showing up in October polling, but will be there when it counts-on Election Day," they wrote.
Paul doesn't fare much better in Iowa, where the first votes of the 2016 election will be cast next February. While the campaign says it has co-chairs in all 99 of the state's counties and has made phone calls to more than 100,000 Iowans recently in a "trench warfare campaign," Paul still lags way behind his rivals.
So what gives? The memo did not address why Paul is still unable to rise from the near-bottom of the polls. In terms of media coverage, the Kentucky senator was at a high point over the summer when he filibustered the re-authorization of the Patriot Act in protest of section 215, which allows the NSA to collect Americans' phone records. Since then, however, his campaign has received little attention.
Ed Crane, a libertarian activist whose super PAC stopped supporting Paul's candidacy, recently attributed Paul's low poll numbers to the "abandon[ment] of his libertarian views," but did not delve into specifics. For its part, the Paul campaign told Mediaite that Crane's group, PurplePAC, never "lifted a finger" to raise money for him in the first place.
The campaign's memo mentioned the broad support Paul seems to have among college students, who will not be on their winter break when the Iowa caucus takes place. In the past, the caucus was held in early January, when students were on vacation in between semesters. This time around, they're relying on that support.
"Due to a change in RNC rules, the 2016 caucuses will occur on February 1 when school is in session," Englander and Stafford said. "With 120,000 voters and over 120,000 students, students are set to dominate the caucuses in an unprecedented way and we are set to dominate this demographic."
The media holds some of the blame, too, they say, accusing reporters of only covering Paul's drop in the polls while ignoring his momentum swings and the decline of other candidates. "Some reporters have covered the fact that [Paul] always comes in first when people are actually voting, although most have ignored it all together," they said.
"The media is fixated on insisting that [Paul]  should get out of the race even though he continues to win every time votes are counted and the polls show him on the rise," Englander and Stafford added.
Paul scored a major victory when the Kentucky Republican Party agreed to change the rules to allow him to run for president and re-election for his Senate seat at the same time, so long as Paul foots the bill for the primary causus. GOP frontrunner Donald Trump, who has been very critical of Paul, said someone should challenge Paul for his Senate seat.
The campaign is betting on a significant Paul "breakthrough" in the coming weeks and months. "[Paul] has the financial resources to continue indefinitely and will keep racking up wins once the voting begins," Englander and Stafford concluded.
[Image via Shutterstock]
— —
>>Follow Andrew Desiderio (@desiderioDC) on Twitter
Have a tip we should know? tips@mediaite.com