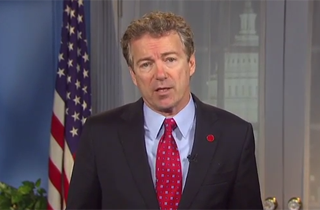 In light of a nationwide measles outbreak, politicians on both sides of the aisle are making it clear (or not?) where they stand on the issue of requiring vaccines. Add Sen. Rand Paul (R-KY) to that mix.
Paul called into Laura Ingraham's radio show on Monday morning and said most vaccines should be "voluntary." The audio was flagged and has been circulated by the Democratic National Committee as a criticism of Paul's views.
"I'm not anti-vaccine at all, but particularly most of them ought to be voluntary," Paul said. "I think there are times in which there can be some rules, but for the most part it ought to be voluntary."
Paul then took a swipe at potential 2016 presidential rival Ricky Perry for requiring an HPV vaccine when he was the governor of Texas.
RELATED: Vaccination Issue Could Be Moment of Truth for GOP Candidates
"While I think it's a good idea to take the vaccine, I think that's a personal decision for individuals to take and when they take it," he added, saying he delayed some vaccines for his children and had them "staggered over time."
President Barack Obama, who once suggested vaccines may cause autism, said this weekend that parents should get their children vaccinated because the science is "pretty indisputable," which echoed earlier comments made by Centers for Disease Control Director Thomas Frieden. In addition, Shepard Smith of Fox News went after anti-vaxxers, calling them "science deniers."
UPDATE — 6:05 p.m. ET: For his part, Sen. Paul clarified his remarks through a spokesman:
FWIW, asked Paul's office for evidence of such cases. Response from @SergioGor here: pic.twitter.com/ce40N2jPlJ

— Alexandra Jaffe (@ajjaffe) February 2, 2015
Listen to the audio below, via the Laura Ingraham Show:
[Image via screengrab]
— —
>>Follow Andrew Desiderio (@forza_desiderio) on Twitter
Have a tip we should know? tips@mediaite.com