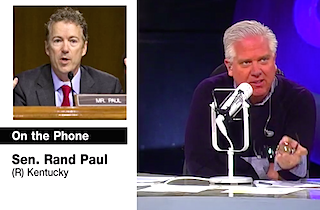 Two days after he joined 46 other Republican senators in sending an open letter to Iran regarding the negotiations over a potential nuclear deal, Rand Paul went on Glenn Beck's radio show to say he has no "regrets," despite being labeled a "traitor" on the front page of the New York Daily News.
Paul told Beck he thought it is "kind of crazy" that people want to know if he has any "regrets" about signing the letter. "Do I have any regrets about informing another country of how our Constitution works?" he asked rhetorically.
The senator explained that he is one Republican who wants more negotiation with Iran and does want to go to war over there, but added, "I don't want just any old agreement, I want the agreement to mean something."
"Most of the sanctions [against Iran] were passed by Congress," Paul said. "The president can't undo legislation on his own. This is this constant war we have with him that he thinks he can write or un-write law."
Since the letter was sent, it has been called "dangerous" by Vice President Joe Biden and "stunning" by Secretary of State John Kerry. At the start of her press conference Tuesday, Hillary Clinton said, "Either these senators were trying to be helpful to the Iranians or harmful to the commander- in-chief in the midst of high-stakes international diplomacy."
"This kind of letter is unprecedented and undiplomatic," Iranian Foreign Minister Mohammad Javad Zarif added. "In truth, it told us that we cannot trust the United States."
While the motives behind the letter can be debated, it has clearly had a larger impact than simply clarifying the U.S. Constitution to Iran.
Watch video below, via TheBlaze:
[Photo via screengrab]
— —
>> Follow Matt Wilstein (@TheMattWilstein) on Twitter
Have a tip we should know? tips@mediaite.com