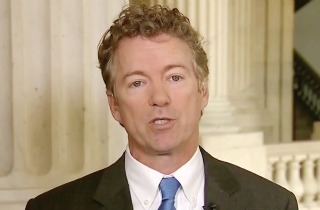 In the ongoing firestorm of controversy that has surrounded Donald Trump in the past few weeks, many news outlets and rival candidates have become exasperated and hopeful that his run will burn itself out before long. Senator Rand Paul gave an interview with Boston Herald Radio on Tuesday morning, where he agreed that Trump's days in the sun are quickly growing old.
After discussions about immigration and issues related to the Chattanooga Shooting, Paul gave his thoughts about how the amount of coverage Trump receives is part of a "self-reinforced" media loop that takes away from other candidates.
"You go from channel to channel and people are looking for news and all getting the same thing," Paul said. "I think its a temporary phenomenon though, and like a lot of things, it gets old quick, particularly once it starts to grate on people's nerves."
When asked about Trump's bolstered ratings in the wake of his controversial comments about Mexicans, Paul said that presenting oneself as an outsider was recycled political maneuver that worked in the beginning because of the need for oneself to be distinguished. Paul said that Trump's inflammatory attack took it to the next level, but at the expense of discussing serious issues.
"If you want to tap into a 90 percent issue, attack the Washington machine," Paul said. "We have done the same thing, but not in a way that has engendered all of the attention all of the time."
When asked about his video where he took a chainsaw to the tax code, Paul was asked about how frustrating it was to have to resort to doing things that are crazy or extreme to turn the spotlight on himself. Paul said that his more visual message will help his message receive more sharability than it might have gotten otherwise.
You can listen to Paul's thoughts on Trump here, starting at 7:24:
[image via screengrab]
Have a tip we should know? tips@mediaite.com