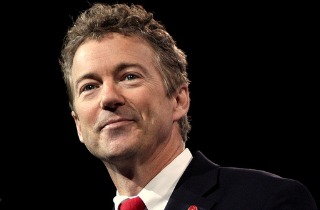 In addition to a phenomenal merch store, Senator Rand Paul's (R-KY) campaign rollout will be heavy on the tech, a move intended to highlight Paul's appeal to younger voters and detachment from the staid GOP establishment. That's if it all works.
Paul announced his candidacy on his website and plans to livestream his announcement from Louisville, Ky., after which he'll take questions on his Facebook page.
This is a more nimble approach than Senator Ted Cruz's (R-TX) announcement at Liberty University's auditorium, which previewed what could go wrong even at a stage-managed event: jesters showed up in Rand Paul 2016 shirts, spoiling some of Cruz's visuals; word leaked that students had been required to attend the event, undercutting Cruz's enthusiasm; and those students complained loudly on Yik Yak, complaints which were then scooped up by eager reporters. All this and more potentially awaits Paul's livestream and Facebook Q&A.
Meanwhile, Paul released a logo kit to any and all via Twitter, allowing followers, pranksters, and anybody else to toy with his primary graphic. (He also crafted Facebook-primed photos for use as your profile pic; set up a customizable "I Stand with Rand" poster; set up his website to take donations in Bitcoin; etc.).
This is your campaign. Here's a link to our logo for graphic designers across the country to use>>> https://t.co/58EOcNC99n #rand2016

— Dr. Rand Paul (@RandPaul) April 7, 2015
This is…risky https://t.co/weaObaxqGb

— Zeke Miller (@ZekeJMiller) April 7, 2015
But as Paul was soon to discover, being tech-forward is fine until your first bug. Clicking the link in a browser downloaded the logo; clicking the link on mobile was another story:
@evanmcmurry @DavidMDrucker pic.twitter.com/FEscg7tpxv

— Ali A. Akbar (@ali) April 7, 2015
Going to lose the digital race again if I'm explaining that a majority of Twitter's traffic is mobile and what #mobilefirst is. Sigh.

— Ali A. Akbar (@ali) April 7, 2015
Whether you buy his schtick or not, Paul has shown himself to be an impressively improvisational politician, a welcome change in a largely scripted game. But too many mistakes can quickly convert riffing into an aura of incompetence especially when one is campaigning for the highest office of the land.
UPDATE 1:28 p.m. – Among other problems, the video of Paul's announcement address posted on YouTube was blocked by Warner Music Group for copyright reasons: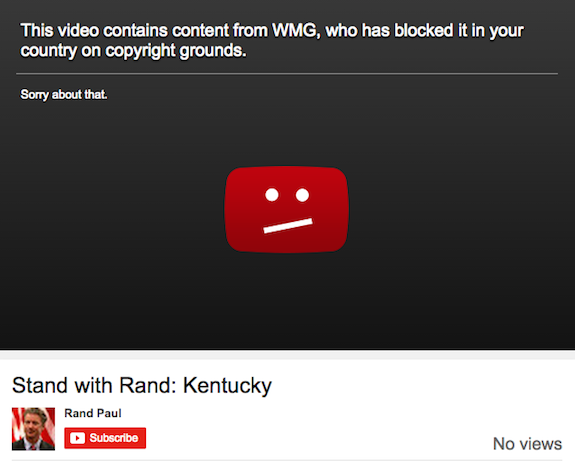 In addition, HuffPost caught that Paul's webpage misspelled "education"; while the "JEW for Rand" square on the support page is getting notice on Twitter.
[Image via screengrab]
——
>> Follow Evan McMurry (@evanmcmurry) on Twitter
Have a tip we should know? tips@mediaite.com