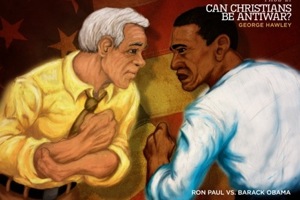 Good tidings for anti-corporatists! Rasmussen Reports has just released a poll in which a hypothetical 2012 matchup between President Barack Obama and Congressman Ron Paul results in a tie, with the incumbent winning 42% to 41%. But just who are all these people voting for renegade Republican with the rabid internet following? Rasmussen doesn't really say.
Paul, who, at 74 years of age would be the oldest president in history if elected, must be feeling that his chances are better than ever. He won the straw poll at CPAC and came in at a close second to Mitt Romney in the SRLC's straw poll. Now a major polling institution felt compelled to match him against the President in 2012, and the results, whatever they are based on, are positive. While Rasmussen admits that Paul polled weak among Republicans and people with high trust in the government (what Rasmussen defines as the "Political Class," they also note that Paul won 58% of the vote among those with low trust in government (what Rasmussen defines as the "Mainstream Class"). Paul also does badly among Republicans when asked whether he is a divisive force in the party, with 27% of them saying he is (compare this to Sarah Palin, for example, who only 18% of Republicans view as divisive).
While the results are probably cause to celebrate for socially liberal Republicans, there are some key facts missing from this evaluation. For one, the write-up on the poll is suspiciously murky on who the people polled are, where they live, or how many of them there are. The clearest idea we get of who was questioned is that the poll was a "national telephone survey of likely voters"—this could mean about one thousand (the average for Gallup and Rasmussen polls) surveyed from a politically and geographically even pool of participants. It could also mean that a pool of 500 New Hampshire Free-Staters and 100 San Francisco liberals were surveyed, with no real representation in between. Rasmussen doesn't provide relief from this doubt, so the validity of this survey is completely up in the air, but combined with the recent straw polls and Paul's astute television appearances as of late, there could be something to this crackpot theory that Paul might be the most viable Republican candidate in the next presidential elections.
[Photo via Wonkette]
Have a tip we should know? tips@mediaite.com