READ: All of Fox News' Statements to Date Defending Megyn Kelly from Donald Trump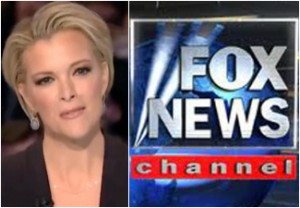 As we reported earlier, Fox News has received criticism for not being aggressive enough in defending Megyn Kelly from Donald Trump's attacks.
Well, in the interest of fairness, we're taking this space to just go over exactly how tough Fox News has been in defending their star anchor.
After the debate in August, when Kelly grilled Trump about his past misogynistic comments, Trump started marching down the warpath and tweeting some nasty things, Fox News issued this statement the next day from Chairman & CEO Roger Ailes:
I'm extremely proud of all of the moderators—they asked tough, important questions and did their job as journalist. I think that was the best political debate team ever put on television. Their performance was outstanding.
Within the next few days, Trump got even nastier in his attacks on Kelly––including that infamous "blood" remark––and Ailes called him on August 10th to discuss the matter. This was the statement Ailes put out later that day:
Donald Trump and I spoke today. We discussed our concerns, and I again expressed my confidence in Megyn Kelly. She is a brilliant journalist and I support her 100 percent. I assured him that we will continue to cover this campaign with fairness & balance. We had a blunt but cordial conversation and the air has been cleared.
The air was cleared for less than a week, however, since four days later, after Kelly told viewers she would be going on a long-overdue summer vacation, Trump said she probably took the vacation because of him. Fox issued a statement that day completely dismissing the idea:
The conspiracy theories about Megyn Kelly's vacation rank up there with UFO's, the moon landing and Elvis being alive. Megyn is on a pre-planned, annual summer vacation with her family, which is much deserved. To imply otherwise as Donald Trump and his campaign operatives have is not only wildly irresponsible, but downright bizarre. Perhaps Mr. Trump thinks it's advantageous to his poll numbers to keep talking about Megyn, but that doesn't change the fact that Roger Ailes has fully supported her and her tough journalistic questioning since day one and is thrilled with the added exposure from the debate which resulted in even higher ratings of The Kelly File this week. Anyone who knows Roger is aware of how historically and consistently loyal he is to all of his talent and how he protects them at all costs. As Governor Terry Branstad said, 'when you're a candidate, you've got to basically answer the questions. You can't just attack the person asking the questions. That doesn't work.'
Well, ten days later, Trump went on yet another tweetstorm in which he retweeted someone who said of Kelly, "The bimbo back in town." Ailes released this statement the next day calling on Trump to apologize:
Donald Trump's surprise and unprovoked attack on Megyn Kelly during her show last night is as unacceptable as it is disturbing. Megyn Kelly represents the very best of American journalism and all of us at FOX News Channel reject the crude and irresponsible attempts to suggest otherwise. I could not be more proud of Megyn for her professionalism and class in the face of all of Mr. Trump's verbal assaults. Her questioning of Mr. Trump at the debate was tough but fair, and I fully support her as she continues to ask the probing and challenging questions that all presidential candidates may find difficult to answer. Donald Trump rarely apologizes, although in this case, he should. We have never been deterred by politicians or anyone else attacking us for doing our job, much less allowed ourselves to be bullied by anyone and we're certainly not going to start now. All of our journalists will continue to report in the fair and balanced way that has made FOX News Channel the number one news network in the industry.
The very next month Trump decided that, after some less-than-friendly segments on the network about him, he was going to boycott Fox. That boycott lasted less than a week, but Fox issued this statement the day after Trump's announcement:
Fox News Chairman & CEO Roger Ailes and Donald Trump spoke this morning and plan to have a meeting next week to discuss their differences of opinion regarding Fox's coverage of Mr. Trump's presidential campaign. Ailes will be joined by senior Fox editorial executives. Mr. Trump believes he has been treated unfairly in certain instances. FOX News has held every candidate in this race to the highest journalistic standards throughout our coverage. We believe a candid meeting about our differences is required and that any misunderstandings can be handled without compromising those standards.
Things cooled down for a while––though in that time period, both Ailes and Kelly spoke out about the network's feud with Trump. Kelly clearly felt very supported by Ailes and the network amid all this, and Fox was gearing up for that second debate in January.
And, well, you know what happened next:
Based on @MegynKelly's conflict of interest and bias she should not be allowed to be a moderator of the next debate.

— Donald J. Trump (@realDonaldTrump) January 23, 2016
Fox was quick to issue a statement on the matter:
Megyn Kelly has no conflict of interest. Donald Trump is just trying to build up the audience for Thursday's debate, for which we thank him.
Two days later, Trump spoke to Wolf Blitzer on CNN that Kelly was a nobody before he went after her (untrue), and Fox's statement amped things up by saying he's showing "fear" of Kelly:
Sooner or later Donald Trump, even if he's president, is going to have to learn that he doesn't get to pick the journalists—we're very surprised he's willing to show that much fear about being questioned by Megyn Kelly.
And then the next day rolled around. January 26th was one of the biggest days of the Trump-Fox feud. First, in response to his repeated attacks on Kelly, Fox issued this infamously snarky statement:
We learned from a secret back channel that the Ayatollah and Putin both intend to treat Donald Trump unfairly when they meet with him if he becomes president — a nefarious source tells us that Trump has his own secret plan to replace the Cabinet with his Twitter followers to see if he should even go to those meetings.
That was followed by Ailes assuring that Kelly would be staying on that stage with all the candidates and co-moderators:
Megyn Kelly is an excellent journalist and the entire network stands behind her — she will absolutely be on the debate stage on Thursday night.
And then Trump decided to drop out of that debate, specifically citing that snarky Fox statement. Fox issued yet another statement later that day making it clear they had no interest in backing down:
As many of our viewers know, FOX News is hosting a sanctioned debate in Des Moines, Iowa on Thursday night, three days before the first votes of the 2016 election are cast in the Iowa Caucus. Donald Trump is refusing to debate seven of his fellow presidential candidates on stage that night, which is near unprecedented. We're not sure how Iowans are going to feel about him walking away from them at the last minute, but it should be clear to the American public by now that this is rooted in one thing – Megyn Kelly, whom he has viciously attacked since August and has now spent four days demanding be removed from the debate stage. Capitulating to politicians' ultimatums about a debate moderator violates all journalistic standards, as do threats, including the one leveled by Trump's campaign manager Corey Lewandowski toward Megyn Kelly. In a call on Saturday with a Fox News executive, Lewandowski stated that Megyn had a 'rough couple of days after that last debate' and he 'would hate to have her go through that again.' Lewandowski was warned not to level any more threats, but he continued to do so. We can't give in to terrorizations toward any of our employees. Trump is still welcome at Thursday night's debate and will be treated fairly, just as he has been during his 132 appearances on FOX News & FOX Business, but he can't dictate the moderators or the questions.
Two days later, on the day of the debate, Fox released yet another statement on Trump detailing his multiple phone calls with Ailes and how he tried to get a quid pro quo:
Roger Ailes had three brief conversations with Donald Trump today about possibly appearing at the debate – there were not multiple calls placed by Ailes to Trump.

In the course of those conversations, we acknowledged his concerns about a satirical observation we made in order to quell the attacks on Megyn Kelly, and prevent her from being smeared any further. Furthermore, Trump offered to appear at the debate upon the condition that FOX News contribute $5 million to his charities. We explained that was not possible and we could not engage in a quid pro quo, nor could any money change hands for any reason. In the last 48 hours, we've kept two issues at the forefront — we would never compromise our journalistic standards and we would always stand by our journalist, Megyn Kelly. We have accomplished those two goals and we are pleased with the outcome. We're very proud to have her on stage as a debate moderator alongside Bret Baier & Chris Wallace.
Things, again, cooled down, and Trump even appeared at the next Fox debate with Kelly.
But last week he couldn't help himself, with new attacks on Kelly, and now he appears to have nicknamed her "Crazy Megyn." That led to the absolute toughest statement from Fox on Kelly's behalf to date:
Donald Trump's vitriolic attacks against Megyn Kelly and his extreme, sick obsession with her is beneath the dignity of a presidential candidate who wants to occupy the highest office in the land. Megyn is an exemplary journalist and one of the leading anchors in America — we're extremely proud of her phenomenal work and continue to fully support her throughout every day of Trump's endless barrage of crude and sexist verbal assaults. As the mother of three young children, with a successful law career and the second highest rated show in cable news, it's especially deplorable for her to be repeatedly abused just for doing her job.
So whatever other criticisms people may have for Fox News in all this, it's pretty clear they've been consistent in defending Kelly from Trump's nastiness from the very beginning.
[image via Fox News]
— —
Follow Josh Feldman on Twitter: @feldmaniac
This is an opinion piece. The views expressed in this article are those of just the author.
Josh Feldman - Senior Editor