Read the Full List of Charges Against 6 Baltimore Officers in Death of Freddie Gray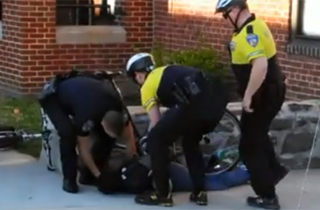 The six Baltimore City police officers involved in the death of 25-year-old Freddie Gray have warrants out for their arrests for a variety of charges ranging from official misconduct to second-degree murder. Gray died earlier this month after suffering a severe spinal injury while in police custody.
On Friday morning, Baltimore City State's Attorney Marilyn Mosby announced that an investigation ruled the death a "homicide" and that warrants have been filed to arrest six officers involved.
Office Caesar Goodson, the driver of the van, was hit with the hardest charges, including second-degree depraved heart murder — which carries a maximum of 30 years in prison. The two officers who initially stopped Gray were also charged.
According to Mosby, the six officers had no probable cause to arrest Gray and acted "in a grossly negligent manner" in failing to get medical assistance to Gray after he asked repeatedly for help. Gray later died from a broken neck, likely sustained after he was slammed "into the back of the police transport van" as the vehicle repeatedly started and stopped.
Here's the full breakdown of the charges and their maximum sentences, via ABC News:
Officer Casear Goodson, Jr.:
— Second-degree depraved heart murder, 30 years

— Involuntary manslaughter, 10 years

— Second-degree assault, 10 years

— Gross negligent manslaughter by vehicle, 10 years

— Criminal negligent manslaughter, 3 years

— Misconduct in office
—
Officer William G. Porter:
— Involuntary manslaughter, 10 years

— Second-degree assault, 10 years

— Misconduct in office
—
Lieutenant Brian W. Rice:
— Involuntary manslaughter, 10 years

— 2 counts of second-degree assault, 10 years each

— 2 counts of misconduct in office

— False imprisonment
—
Officer Edward M. Nero
— 2 counts of second-degree assault, 10 years

— 2 counts of misconduct in office

— False imprisonment
—
Officer Garrett E. Miller
— 2 counts of second-degree assault, 10 years each
— 2 counts of misconduct in office
— False imprisonment
—
Sergeant Alicia D. White
— Involuntary manslaughter, 10 years
— Second-degree assault, 10 years
— Misconduct in office
—
[Image via screenshot]
—
>> Follow Tina Nguyen (@Tina_Nguyen) on Twitter
Have a tip we should know? tips@mediaite.com