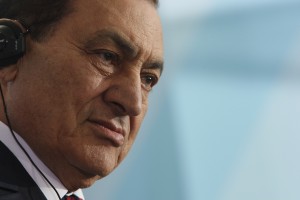 Today, WikiLeaks has released cables concerning U.S.-Egyptian relations, which may help further understand and add context to the current uprising gripping Egypt, with the fate of current President Hosni Mubarak (pictured) up in the air. The continued turmoil and violence threatens not only the fate of the Egyptian government and the well-being of the country's people, but also threatens the stability of the Middle East as a region, as well as the the price of oil and, inevitably, a U.S. economy so reliable on the price of oil.
Here are some highlights revealed in the cables. Please note that this is just a sampling, with synopses. For a complete look at cables regarding Egypt, go to WikiLeaks:
Government Suppression Of Critical Opinion – Egypt's government took a "series of selective actions" against journalists, bloggers and an amateur poet (who ended up being imprisoned for three months for allegedly "defaming" President Mubarak), including public and private legal action, in an attempt to suppress critical opinion. One blogger was held at an airport (name withheld) for 13 hours and had his laptop confiscated by authorities. (09CAIRO1447, RECENT GOE ACTIONS TO SUPPRESS CRITICAL OPINION)
Meeting Among Egyptian Military Officials – On January 31, 2010, a meeting was called among several top names in Egypt's military. The men discussed the need to revamp its military strategy, with emphasis on issues such as the balance of power in the Middle East, nuclear weapons in that area of the world, and current U.S. policy towards Iran. (10CAIRO257, DASD Kahl Meeting with Egyptian Military Officials)
During the meeting, it was noted that the Egyptian military felt some pressure from the U.S. to "reform its doctrine and capabilities to counter asymmetric threats."
Gamal Mubarak Looks Forward to Presidential Succession -Hosni's son, Gamal Mubarak, worked to rid himself of his competition and his detractors. This included removing "stumbling blocks" – as they are referred to in the cables – including Minister of Defense Tantawi and/or EGIS head Omar Suleiman, who were viewed as threats by Gamal.
Gamal viewed a post-Mubarak (Sr.) military coup as "the best possible way out for Egypt," at least speaking theoretically. (07CAIRO974, XXXXXXXXXXXX MP ON PRESIDENTIAL SUCCESSION)
Egypt's Stance on Police Brutality – A report concluded that Egyptian police routinely used force to coerce confessions from alleged criminals, likely the result of "poor training and understaffing." Instances of police brutality decreased when it came to Muslim detainees, although activists belonging to the Muslim Brotherhood were still being tortured, as were, in some instances, demonstrators and activists.
According to another cable, when pressed on the issue of police brutality in his country, Interior Ministry State Security Director Hassan Abdel Rahman maintained that SSIS has not abused prisoners "in the past ten years" and MFA Deputy Assistant Minister for Human Rights Wael Aboulmagd said Egypt's government "takes the issue of police brutality seriously," even increasing the number of prosecutions against torture and abuse by police authorities. (09CAIRO79, GOE STRUGGLING TO ADDRESS POLICE BRUTALITY)
Egypt Displeased with U.S. – Egyptian officials expressed displeasure with the U.S.'s recommendations concerning human rights, presented during the February 17th UN Human Rights Council's Universal Periodic Review of Egypt's track record with human rights. American activists criticized the GOE's response. Meanwhile, in Egypt, media coverage of the Review was mixed, with pro-government outlets focusing solely on the government's response. (10CAIRO253, UPR REACTION: GOE DISPLEASED WITH THE U.S., ACTIVISTS)
Egypt's Emergency Law – Egypt's "Emergency Law," established in 1967, allows the government to "arrest individuals
without charge and to detain them indefinitely," and creates security courts which have the authority to issue verdicts that cannot be appealed unless the President grants permission to do so.
Emergency law has been applied to cases regarding Islamist extremist groups and the Muslim
Brotherhood, as well as bloggers and labor demonstrators. (10CAIRO64, EGYPT'S EMERGENCY LAW AND ITS BROAD USES)
NDP Insider Discusses Transfer of Power – NDP insider Dr. Ali El Deen Hilal Dessouki provided his assurance that the transfer of power in Egypt would go smoothly and that democracy was Egypt's long-term goal. He also opined that opposition parties in the country were "weak." He also said that, although there would be some violence around the 2010 parliamentary and 2011 presidential elections, he felt that security forces would be able to manage any demonstrations or acts of violence. (09CAIRO1468, NDP INSIDER: MILITARY WILL ENSURE TRANSFER OF POWER)
Have a tip we should know? tips@mediaite.com