Redskins PR Flack Shoves a TV Reporter, Prematurely Ending Interview With Team Kicker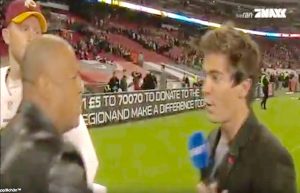 The NFL has sought to promote American football in Europe by playing a number of games in London over the past decade. What happened following yesterdays 27-27 tie between the Washington Redskins and Cincinnati Bengals probably won't help.
A reporter from the German TV outlet Ran was interviewing Washington kicker Josh Hopkins moments after he missed a chip shot 34-yard field goal which would've given his team the win.
As soon as Hopkins began speaking (and credit to him for standing in front of his proverbial locker following his crucial miss), a voice was heard shouting "No! No! No!" It was Redskins PR flack Tony Wyllie. The PR man entered the live shot, gave the reporter a gentle shove and quickly whisked Hopkins away.
NO NO NO NO!!!

? ? ? #rannfl @ProSiebenMAXX #WASvsCIN pic.twitter.com/9NK4CHTxnV

— Markus / Hopp3lch3n™ (@hopp3lch3n) October 30, 2016
Wyllie has been involved in a number of incidents which have caught the attention of the sports blogopshere in the past. There was the time he sent a furious email to a journalist after that journalist tweeted an innocuous joke — with the subject line "Don't EVER try to get a credential from us again." There was also his bizarre defense of a lawsuit filed by team owner Daniel Snyder against the Washington City Paper.
Sunday, his abrupt cutting off of an interview with a journalist from a market in which the league is trying desperately trying to promote the sport probably won't aid in those efforts.
Watch above, via Twitter.
[image via screengrab]
–
Follow Joe DePaolo (@joe_depaolo) on Twitter
Have a tip we should know? tips@mediaite.com
Joe DePaolo - Senior Editor