Reince Priebus Calls Out Media For 'Cover-Up' Of Planned Parenthood's Support for 'Infanticide'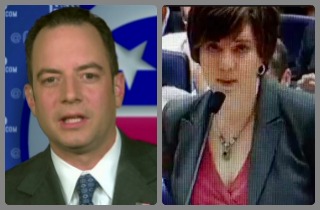 Writing in the conservative blog RedState.com, Republican National Committee Chairman Reince Priebus attacked the press for what he determined was an active effort to suppress coverage of a Planned Parenthood spokesperson's admission that her organization supports the aborting of children that are accidentally born alive. In the process, the RNC chairman accused the media of outright and empirical bias towards supporting Democratic politicians and liberal causes.

RELATED: Campbell Brown On MSNBC: Planned Parenthood's Partisan 'Purity Test' Will Ultimately Hurt It
"For almost as long as there have been two parties, there have been accusations of mainstream media bias," Priebus began. "Conservatives know it's real. Liberals insist it's imagined. Bias is evident not only in how events are covered but also in what is covered—and more importantly what is not covered."
He says that this bias is obvious in the level of coverage two recent events received. First, the law enacted in North Dakota that forbids abortion after a fetus develops a heartbeat which was widely covered. Second, the admission by a lobbyist for Planned Parenthood testifying before Florida lawmakers that her organization does not oppose euthanasia for infants accidentally delivered alive during an abortion procedure.
"You can watch the shocking exchange here—because you certainly didn't see it on the news, a prime example of media bias," Priebus writes.
Planned Parenthood is an organization that receives taxpayer funding, including millions from the federal government. They also enjoy the unwavering support of almost all elected Democrats.
"They should now all be held to account for that outspoken support," the RNC chairman continued. "If the media won't, then voters must ask the pressing questions: Do these Democrats also believe a newborn has no rights? Do they also endorse infanticide?"
"And this case of blatant media bias—cover-up really—should also be cause for some thoughtful self-examination among journalists," Priebus concludes.
Read the full article in RedState.com
> >Follow Noah Rothman (@NoahCRothman) on Twitter
Have a tip we should know? tips@mediaite.com