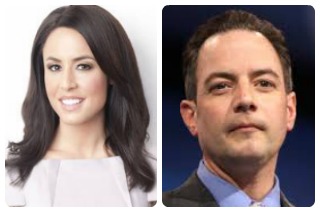 On Wednesday, Republican National Committee Chairman Reince Priebus joined Fox News Channel host and conservative talker Andrea Tantaros to expand on his threat to exclude CNN and NBC News from hosting 2016 GOP presidential debates if they move forward with their planned films about Hillary Clinton. Priebus told Tantaros that he thought her suggestion of having a "talk radio debate," hosted by herself, Mark Levin, and Sean Hannity, was a "very good idea."
Tantaros told Priebus that she thought it was a wise move for the RNC to preemptively go after CNN and NBC for their decision to produce docudramas about Clinton given how their selected moderators handled the 2012 primary and presidential debates.
"Chairman, what do you think about a talk radio debate, where maybe I get together with my buddy Sean Hannity and maybe a Mark Levin, and we interview some of the candidates?" Tantaros asked. "Because the base I think would like that."
"I actually think that's a very good idea," Priebus agreed. "I mean, there's a lot of good people out there that can actually understand the base of the Republican Party, the primary voters."
RELATED: Priebus' Ultimatum To NBC Over Hillary Movie Forces MSNBC Hosts Into Resentful, Defensive Crouch
"You can very easily parse that out in a way that actually provides some substance to the Republican primary voters and what they actually want to talk about and understand," he continued.
"My interest is not to hurt any Republican running for office," Tantaros replied. "It's to give the base voters the best answers on policy issues that matter to them."
"Talk Radio Network's awesome," she continued. "And we also have the Fox News Channel as well, so that was the best debate that you guys did last time that you participated in."
Listen to the audio via The Andrea Tantaros Show:
h/t MMFA
> >Follow Noah Rothman (@NoahCRothman) on Twitter
Have a tip we should know? tips@mediaite.com