Remy Stern Signs Off As Editor-In-Chief Of Gawker, Deadspin's AJ Daulerio To Take Helm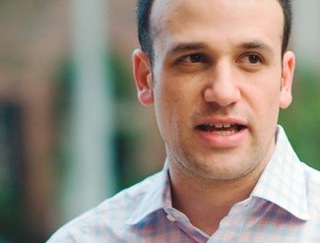 Major changes at the top of Gawker's masthead are afoot for the next year, as Editor in Chief Remy Stern announced today that he would be leaving the site. Stepping into his shoes will be longtime Deadspin editor in chief AJ Daulerio. The New York Times reports that changes take place at the end of the year, though Stern called today his last day on the job.
Stern posted a goodbye message this evening, saying thanks to his crew and announcing Daulerio as the new head of the site:
It's been a fantastic ride, but today is my last day as Gawker's editor-in-chief. Taking over the reigns is A.J. Daulerio of Deadspin. Please make him feel welcome.

My deepest thanks to the insanely talented team I've had the pleasure of working with these past 18 months and to you, dear readers, for skimming the site during your lunch breaks and complaining endlessly in the comments. Keep in touch, y'all! It's been a blast.
The news broke earlier, however, as Brian Stelter at the New York Times reported the changes, noting that Tommy Craggs, a senior editor for Deadspin, would now be in charge of that site. Stelter also posted an excerpt from an internal memo from Gawker head Nick Denton:
"It's not as if Gawker is in crisis," Mr. Denton wrote, citing traffic growth and a series of news scoops under Mr. Stern. But, he continued, "We need to release the full potential of the site's excellent roster of writers — and fill out the team with new hires. A. J. has proven himself as both developer and recruiter of editorial talent. That's what the site needs right now. Hence the switch."
[Photo via]
Have a tip we should know? tips@mediaite.com