Rep. West: 'I Just Apologized' To Rep. Wasserman-Schultz (Update: Both Sides Deny Apology)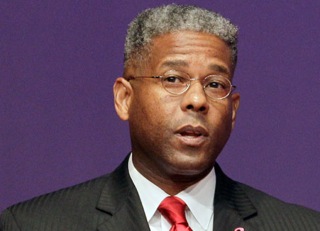 It didn't take long for Rep. Allen West's fundraising email calling DNC Chair Debbie Wasserman-Schultz a series of harsh insults– "vile, despicable, unprofessional… not a lady… coward"– to set fire to the blogosphere and, predictably, it has not taken Rep. West too long to issue an apology. As accusations of sexism mounted against him, the Congressman told reporters today that he "just apologized" for the email personally.
News of the apology comes from Roll Call, quoting Rep. West directly. Rep. West didn't elaborate, and Rep. Wasserman-Schultz has yet to comment on the apology, though the apologize may come to some as a surprise after Rep. West's spokesperson stood by the comments immediately after they went public. Rep. Wasserman-Schultz publicist did comment directly as to the original statement, however, stating that "the truth hurts" and noting that Rep. West is from a neighboring district to Wasserman-Schultz's and should know better. The apology, of course, does not erase the email– nor whatever powers of persuasion it may have had over potential donors– but is at least a first step to mending the verbal wounds.
Update: Or not? Roll Call has updated the post to reflect the fact that, as soon as it went up, both parties began denying the report:
Wasserman Schultz aides said there had been no apology, and West's office adamantly denied the report and demanded a retraction. […]

West said, "I just apologized," when asked by a Huffington Post reporter about the situation in the Speaker's Lobby before votes Wednesday afternoon, according to a tape of the conversation.

The Huffington Post reporter repeated the question later, asking about it in the context of a group of female lawmakers preparing to hold a news conference to condemn him. The Members planned to call on the leadership of both parties to rebuke West. In response to the question, West reiterated that he had apologized before walking into the House chamber.

But West spokeswoman Angela Sachitano doubled down, saying it was Wasserman Schultz who should do the apologizing. Sachitano strenuously denied that West had apologized to Wasserman Schultz and even denied what he'd told Huffington Post.

"In fact, we're waiting on an apology from her," Sachitano said.
The Congresswoman also told Wolf Blitzer on The Situation Room today that she did not, in fact, receive an apology:
I have not received an apology. I haven't received a phone call. I know he has my e-mail, I haven't got an apology on my e-mail nor on my fax machine in my district office or my congressional office in the Capitol or at the Democratic National Committee.
The video via CNN below:

Have a tip we should know? tips@mediaite.com