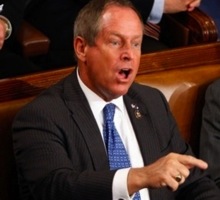 In what many considered to be a shocking and embarrassing breach of decorum, a Republican House Member, Rep. Joe Wilson, R-S.C., shouted "You lie" at President Barack Obama during his speech to Congress Wednesday. Democrats AND Republicans were quick to call out his eruption (bipartisanship at last!), and Wilson himself was quick to issue an apology. But on the strange world of the Internet, Joe Wilson's scene appears to have made him an instant hero.
Wilson's outburst came just as President Obama was addressing concerns about medical care for illegal immigrants under the Administration's proposed heath care reforms — an issue near and dear to many "Angry White Dudes."
Need proof? Go to AngryWhiteDude.com and see the headline "Joe Wilson – Hero to the People."
If you want a truthful and common sense take on the Wilson outburst, you can go to TruthandCommonSense.com with the simple headline "Joe Wilson, Hero."
Twitter has also been fairly revealing: "berekah – RT @billpr53 Congressman Joe Wilson is an American hero, shouting out what a majority of Americans have been screaming for months", and "keytawahner – If they didn't like Joe Wilson, just wait until buses galore hit Washington with protestors. Joe Wilson is my hero."
Truth be told, the selected rants of a few bloggers and Twitterers doesn't exactly prove a trend. But the treatment of Joe Wilson by the mainstream critics of President Obama's Health Care reform will reveal just how big a divide the President has to heal. Will Wilson to be a highly sought after guest and talking head now on Fox News and on Rush, Sean and Glenn's shows? Or will we heed the president's call for working together in a civil manner. Time will tell.
See the "You Lie" clip for yourself:

Have a tip we should know? tips@mediaite.com