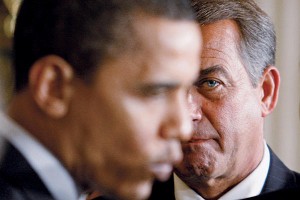 The White House surprised a lot of people today when it announced that the President had asked to address a joint session of Congress to discuss a plan to lower unemployment and improve a stagnant economy. Perhaps more surprising than the joint session request was that it conflicted with a previously scheduled GOP presidential debate set to air on (and be hosted by) NBC News. Well, it is now being reported that Speaker John Boehner has told President Obama to delay his joint session speech one day.
The Hill reports that the House Speaker wrote the following in a letter to the President:
"It is my recommendation that your address be held on the following evening, when we can ensure there will be no parliamentary or logistical impediments that might detract from your remarks."
As soon as it was announced that the White House was aiming for a speech that would conflict with a GOP debate, many saw it as a unnecessarily "petty and transparent" political move. In a post published earlier today, I called it a smart political move for this very reason. John Boehner, and the GOP that he ostensibly leads, have been hyper-critical of this administration's effort to address the current economic woes that this country faces. But by pushing the presidential request to address a joint session of Congress so as to not conflict with a GOP political debate, it is hard take the "dire" and "urgent" rhetoric with a straight face. One cannot reasonably complain about a lack of action, and in the next breath say "let's wait a day for to hear your plan."
Let me be clear: there is no question that there's a case to be made that White House gambit of stepping on the GOP debate was a cynical bit of political theater. Their insistence to the contrary (and the fact that the President's address was always billed as a post-Labor Day event) notwithstanding, it is at least a happy accident. But that is the game of politics, and the President's supporters have been very vocal in expressing disappointment in how the White House has been getting killed of late in the game of cynical politics. Right now, the White House can reasonably make the point that the GOP asked the president to delay a bipartisan appeal to address the nation's woes so as to not conflict with the politics of the GOP primary. And that's probably an expected, if not desired, result from this plan. Asking the President to delay a major policy address before Congress to make way for a political debate is not the best way to show people you're not playing politics.
Watch the report from CNN below:
Have a tip we should know? tips@mediaite.com
Colby Hall - Founding Editor