Rep. Michele Bachmann Denies Reports Her Entire New Hampshire Staff Has Quit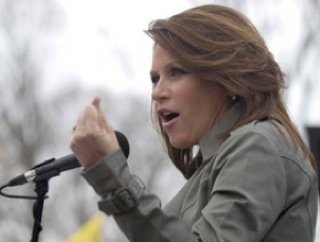 Rep. Michele Bachmann seems to have lost her entire campaign staff in New Hampshire, but if her workers resigned, they seemed to neglected telling her. The Bachmann campaign's former New Hampshire campaign director, Jeff Chidester, confirmed the resignations as Rep. Bachmann herself denied them, leading to more speculation as to the future of the Bachmann campaign.
Chidester broke the news with the Manchester, New Hampshire Union Leader, which the newspaper dubbed a "mutiny" in the campaign. He told the paper he had resigned last week, and that he was one of at least four in New Hampshire who felt the national Bachmann campaign machine had been too frustrating a system for them to work within. At press time for the Union Leader, a spokesman for the Bachmann campaign claimed they had not been notified anyone was leaving.
Meanwhile, according to Politico, Rep. Bachmann herself seemed to toe the same line as her spokespeople. She called into Radio Iowa to comment on the subject yesterday, where she called the allegations "shocking" and incongruous with the status of her campaign as she knew it:
"That is a shocking story to me," Bachmann said. "I don't know where that came from. We have called staff in New Hampshire to find out where that came from and the staff have said that isn't true, so I don't know if this is just a bad story that's being fed by a different candidate or campaign. I have no idea where this came from, but we've made calls and it's certainly not true."
Speaking to CBS, Chidester noted that he had notified people he believed were close to the candidate a week ago, and noted it would be "unfortunate" if they had not relayed the news. Rep. Bachmann and her team have refocused her efforts mostly in Iowa, where the candidate has the strongest chance of making a dent in the campaign due to that state's more socially conservative politics. The staff shakeup is seen by some as signs that the campaign is losing momentum, though it would not be the first time that rumors of an end to a campaign due to staff losses have come up. Jon Huntsman recently had his staff conduct a reverse move to that of Rep. Bachmann, relocating entirely to New Hampshire, which Newt Gingrich is several months removed from his own "mass exodus" that was considered one of the final nails in his political coffin at the time.
Have a tip we should know? tips@mediaite.com