Rep. Steve King Shares Picture of Hispanic Children: 'Prime MS-13 Gang Material'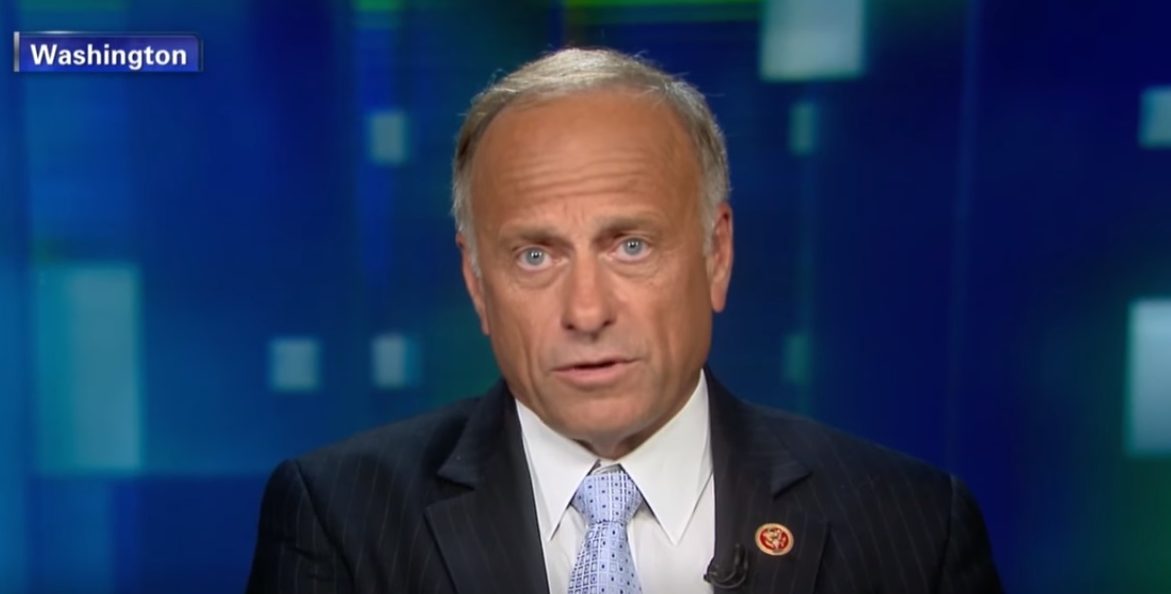 The most shamelessly racist Republican in Congress is back on his bullshit. Rep. Steve King of Iowa — who, just recently, retweeted a neo-Nazi and cited a white supremacist publication on his congressional website — commented on a photo of seven Hispanic boys and claimed they are "prime MS-13 gang material."
"Young boys' all old enough to be tried as adults or serve in the military," King wrote while quote tweeting a photo of migrant children. "Prime MS-13 gang material & certainly grew up in the culture of one of the top 10 most violent countries in the world."
"Young boys" all old enough to be tried as adults or serve in the military and are prime MS-13 gang material & certainly grew up in the culture of one of the top 10 most violent countries in the world. https://t.co/r8Ur40tqhd

— Steve King (@SteveKingIA) June 22, 2018
Given King's history of promoting white supremacy, the tweet should come as no surprise, but he still received a barrage of backlash from pundits, journalists, and other Twitter users for reaching peak white anxiety:
Steve King cites VDARE, retweeted a Nazi sympathizer, did a panel (which he defended) with white nationalist Peter Brimelow on "The Failure of Multiculturalism."

And every GOP presidential candidate basically kisses his ring in Iowa every four years.

— andrew kaczynski? (@KFILE) June 22, 2018
Steve King has a chronic fear of children pic.twitter.com/CbxgzymXeT

— Andrew Perez (@andrewperezdc) June 22, 2018
You're like the Cillizza of nazis.

— Molly Jong-Fast (@MollyJongFast) June 22, 2018
steve king, steve bannon and stephen miller are three solid reasons to abolish all forms of the name steve no more steve ya'll are kevin now.

— Hasan Piker (@hasanthehun) June 22, 2018
are you afraid of them old bitch

— raandy (@randygdub) June 22, 2018
[image via screengrab]
Follow the author on Twitter (@calebecarma).
Have a tip we should know? tips@mediaite.com