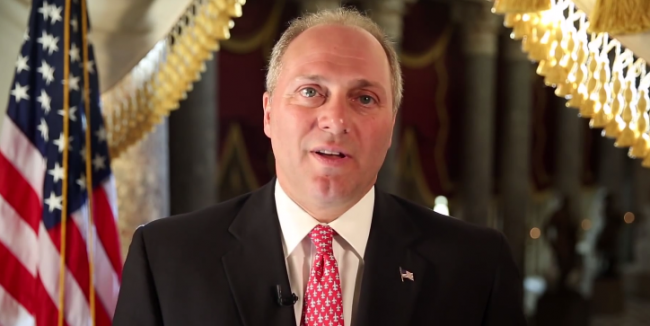 GOP Congressman Steve Scalise (R-LA), who was shot in the hip early Wednesday during baseball practice for Thursday evening's Congressional Baseball Game, is in critical condition following surgery, the hospital announced.
Scalise's office said Wednesday morning that he was undergoing surgery after being shot in the hip and transported to MedStar Washington Hospital Center. The hospital later tweeted that Scalise remains in critical condition.
Rep. Scalise was critically injured and remains in critical condition. The other patient is in good condition.

— MedStar Washington (@MedStarWHC) June 14, 2017
Matt Mika, a former congressional staffer-turned-lobbyist who was also shot in the attack, is also in critical condition. Mika was reportedly suffered the worst of the injuries after being shot in the chest. He is being treated at GWU Hospital.
A gunman, identified as as 66-year-old James T. Hodgkinson, opened fire during the baseball practice in Alexandria, Virginia, on Wednesday morning, wounding the House Majority Whip, members of his security detail, a congressional staffer, and a lobbyist.
UPDATE –– 9:30 pm ET: The hospital has released a new statement tonight on Scalise's condition:
Congressman Steve Scalise sustained a single rifle shot to the left hip. The bullet travelled across his pelvis, fracturing bones, injuring internal organs, and causing severe bleeding. He was transported in shock to MedStar Washington Hospital Center, a Level I Trauma Center. He underwent immediate surgery, and an additional procedure to stop bleeding. He has received multiple units of blood transfusion. His condition is critical, and he will require additional operations. We will provide periodic updates.
[image via screengrab]
Have a tip we should know? tips@mediaite.com