Rep. Thad McCotter Abruptly Resigns From Congress Citing 'Calumnies, Indignities, And Deceits'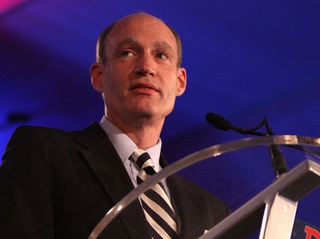 Michigan Congressman and former Republican presidential candidate Thaddeus McCotter resigned yesterday with a bizarre, upset letter citing a difference between "the needs of my constituency and my family" as a reason. Noting that he would not be finding a job in the lobbying industry, he cites his priorities after this as "find[ing] gainful employment to help provide for my family" and "continue to assist, in any way they see fit, the Michigan Attorney General's earnest and thorough investigation."

RELATED: GOP Congressman Pens Bizarre TV Pilot As 'Catharsis' From 'Destructive' D.C.
It had been a rough week for the Congressman, who was unable to launch a reelection bid after his petitions to get on the ballot were found to have a number of fraudulent signatures. This was followed up by an article in the Detroit News exposing an uncomfortably suggestive TV pilot the Congressman had written as what he described as a "catharsis" from the goings on in Washington. He explains that, between that and the investigation into the fraudulent signatures, he is forced to leave Congress:
After nearly 26 years in elected office, this past nightmarish month and a half have, for the first time, severed the necessary harmony between the needs of my constituency and of my family. As this harmony is required to serve, its absence requires I leave.

The recent event's totality of calumnies, indignities and deceits have weighed most heavily upon my family. Thus, acutely aware one cannot rebuild their hearth of home amongst the ruins of their U.S. House office, for the sake of my loved ones I must "strike another match, go start anew" by embracing the promotion back from public servant to sovereign citizen.

I do not leave for an existing job and face diminishing prospects (and am both unwilling and ill-suited to lobby), my priorities are twofold: find gainful employment to help provide for my family; and continue to assist, in any way they see fit, the Michigan Attorney General's earnest and thorough investigation, which I requested, into the 2012 petition filing.
—–
» Follow Frances Martel on Twitter
Have a tip we should know? tips@mediaite.com