Report: CIA Chief Based Congressional Testimony On Mubarak Departure On Media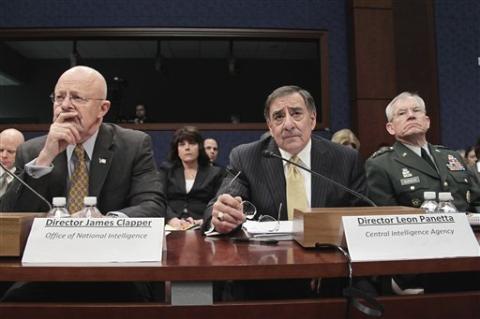 CIA Director Leon Panetta testified to Congress today of a "strong likelihood" that Egyptian President Hosni Mubarak would step down by the end of the day. The report of his impending resignation was only eclipsed by the news that Mubarak would NOT be stepping down as Panetta had indicated to congress. The worse part isn't that Panetta was basing his statement on on media reports (and not intelligence.) No, National Intelligence Director James Clapper outdid Panetta with his erroneous claim that the Muslim Brotherhood is a "secular" organization.
Certainly the current upheaval unfolding in Egypt is a fluid situation, best described as a leaderless revolt that has put the State Department, the Pentagon and the CIA all on their heels. As it turns out, the true diplomatic stars so far in this story has been the media, who's on the field reports have not only created compelling visuals for cable news outlets around the world, but also, strangely, informed the CIA director in his statements to Congress.
According to a report by Mark Landler and Mark Mazzetti for the NY Times (emphasis mine):
Mr. Obama watched Mr. Mubarak's speech on board Air Force One, returning from a trip to Michigan, the press secretary, Robert Gibbs, said. As soon as he arrived at the White House, Mr. Obama huddled with his national security aides. The administration appeared as taken aback by Mr. Mubarak's speech as the crowds in Tahrir Square. The director of the Central Intelligence Agency, Leon E. Panetta, testified before the House of Representatives on Thursday morning that there was a "strong likelihood" that Mr. Mubarak would step down by the end of the day.

American officials said Mr. Panetta was basing his statement not on secret intelligence but on media broadcasts, which began circulating before he sat down before the House Intelligence Committee. But a senior administration official said Mr. Obama had also expected that Egypt was on the cusp of dramatic change. Speaking at Northern Michigan University in Marquette, he said, "We are witnessing history unfold," adding, "America will do everything we can to support an orderly and genuine transition to democracy."
Wait, what? The head of the CIA was giving information to congress that he was getting from the "teevee"? Hmmm…I could have done that.
Panetta was only outdone by the strange claim that the Muslim Brotherhood is "largely secular." It is true that that the many media outlets and commentators have mischaracterized the group as a "terrorist" affiliated group when they are among the more moderate factions in Egypt, it's factually incorrect to claim that they are secular.
According to FoxNews.com:
The term 'Muslim Brotherhood' … is an umbrella term for a variety of movements, in the case of Egypt, a very heterogeneous group, largely secular, which has eschewed violence and has decried Al Qaeda as a perversion of Islam," Clapper said.

But the DNI later issued a statement to "clarify" that claim.

"To clarify Director Clapper's point, in Egypt the Muslim Brotherhood makes efforts to work through a political system that has been, under Mubarak's rule, one that is largely secular in its orientation. He is well aware that the Muslim Brotherhood is not a secular organization," DNI spokesperson Jamie Smith said.

While the Brotherhood has renounced violence, one of its goals is to pursue the creation of an Islamic state. The CIA's own website lists the Brotherhood as a "religious-based" party.
All in all not a proud moment for American intelligence efforts. Watch Clappers comments below, courtesy of Fox News:
Have a tip we should know? tips@mediaite.com