Report: Fourth Herman Cain Accuser Filed For Bankruptcy Twice, Has History Of Legal Issues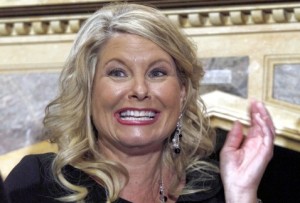 According to a new story in today's Chicago Tribune, the woman who accused Herman Cain of sexual harassment on Monday has a history of money problems and legal issues.
Sharon Bialek, according to the report, has twice filed for personal bankruptcy, first in 1991 and again in 2001:
In the latter case, she claimed $5,700 in assets and more than $36,000 in liabilities. Among the creditors seeking payment was a management firm demanding back rent of $4,500, four credit card companies and a lawyer asking for his legal fees.
The problems don't end there. A team of reporters from the Tribune, led by Lisa Black, John Chase and Lolly Bowean, dug up court records that show Bialek accused a former boyfriend, William Concha, of harassing her for repayment of a loan.
Bialek borrowed $4,500 from William Concha, though Concha now believes she had no intention of paying him back, according to his brother, Mario.
Records from the Cook County recorder of deeds also show two liens filed against her:
The IRS filed a tax lien against her in 2009 for nearly $5,200. In August, the Illinois Department of Revenue claimed Bialek owed the state more than $4,300, including penalties and interest, relating to income taxes from 2004, according to county records.
RELATED: Herman Cain Addresses New Sexual Harassment Allegations On Jimmy Kimmel
Although this evidence might paint Bialek as someone desperate to sell her story for some quick cash, that might not necessarily be the case. The Tribune interviewed Bialek's fiance, Mark Harwood, a corporate executive in the medical equipment industry who is originally from the U.K. He told reporters that she currently has no money issues and that he supports both her and her 13 year-old son. They all live together in a large, five-bedroom house in a suburb of Chicago. Harwood did mention that Bialek failed to mention any dalliance with Cain until Friday night, when she told him she was going to New York for the news conference. But in a video interview with Black, Harwood said she was "absolutely petrified to go" and make her public declaration.
The interview with Harwood comes at the same time as news of a fifth incident involving Cain has bubbled up. According to the Washington Exmainer, a woman has accused Cain of asking her to arrange a dinner with someone he saw in the audience at a speech he gave. When she refused, Cain instead went to dinner with a group of women, and allegedly stuck them with $800 worth of wine on their bill.
h/t Chicago Tribune
Have a tip we should know? tips@mediaite.com