Report: George Soros Made His 28-Year-Old Ex Girlfriend Sit At The 'Children's Table'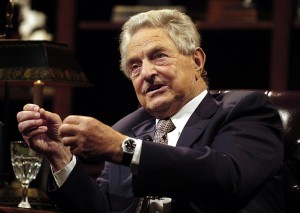 So not only is George Soros an evil, shadowy figure manipulating foreign governments and hell-bent on creating a global One World Order, he's also kind of a dick.
According to friends of the 81-year-old billlionaire, Soros used to make his 28-year-old girlfriend (now ex) sit at the children's table during Sunday brunches. One particular friend gives some explanation, however weak, to this incredibly strange habit.
"He always had one table for the men, one for the women, and one for the kids," said a friend of the Hungarian investing guru. "The Brazilian was always seated at the kids' table, and she didn't look too happy."
So then, perhaps it's no big surprise that said ex-girlfriend Adriana Ferreyr, who is a big soap opera star in Brazil by the way, is suing Soros because he did not follow through on an alleged promise he made to give her an apartment in New York. She also claims that Soros assaulted her after giving the apartment to another woman.
One friend claims she did not like seeing Soros talking to other women, suggesting "her nickname could be 'Determined.'" Soros, however, did not appear to care much to her. He supposedly confided to a friend:
"What I do in the nighttime is my own business, and nobody else's business. She… is only for nighttime."
A spokesman for Soros has dismissed the lawsuit as "an attempt to exort money" from the billionaire, and called her claims baseless and "a delusional work of fiction." And after Ferreyr got an apartment in the same complex as the one Soros gave to another woman, he increased his security detail, and according to one source, "even the waiters were packing."
However, I can't help but note the disturbingly high 53-year age discrepancy between Soros and his former lover. Even Rupert Murdoch stayed within the somewhat respectable 40-year gap with his marriage to Wendi Deng. Soros is basically operating with a Hefner-like libido. Sort of takes away from the whole Bond villain thing, doesn't it?
h/t The Daily
Have a tip we should know? tips@mediaite.com
Josh Feldman - Senior Editor