Report: HuffPost, Aol And Arianna Huffington To Be Hit With Lawsuit By Volunteer Bloggers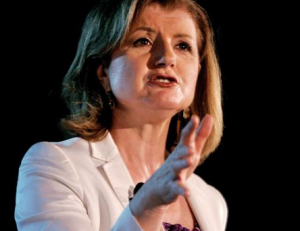 Well, now it's official: Several Huffington Post contributors have come together to launch a lawsuit against the site. The suit comes after weeks of very public complaints about the lack of monetary compensation bloggers have received in the wake of HuffPost's $315 million deal with Aol. While the Huffington Post has a staff of paid editors, those who contribute to the site's group blog are unpaid. Previously, the Newspaper Guild had pledged its support for an ongoing "writers' strike" against the site.
Journalist and union organizer Jonathan Tasini is leading the class-action lawsuit against not only the Huffington Post and Aol, but HuffPost founder Arianna Huffington as well.
Tasini had blogged for the Huffington Post – for free, of course – since its early days, but elected to stop contributing three days after the site announced its lucrative deal with Aol in February.
And this isn't the first time Tasini has launched a suit against a veritable media empire. Reports Forbes:
Tasini was also the lead plaintiff in New York Times Co. vs. Tasini, a lawsuit over the rights of papers to license the work of freelancers for distribution via electronic databases.That case was decided in favor of the plaintiffs.
It's also not the first time on this particular merry-go-round for Aol: The company was sued In 1999, after two volunteer chatroom moderators determined their working conditions were in violation of the Fair Labor Standards Act. Their suit was eventually resolved with a $15 million settlement.
With Aol and Huffington Post cutting back on bloggers and freelancers and focusing instead on "journalists" providing original reporting, it could be that the companies were already set to rely less on the efforts of unpaid contributors. At any rate, this marks a pivotal turning point for Aol, HuffPost, and other big companies who stand to make a lot of money off of unpaid labor. Then again, the old argument still stands: No one forces writers to contribute to sites that don't pay them rather than magazines and websites that will. And the exposure and expanded portfolio they receive from contributing their writing to these sites may prove well worth the effort for some.
Needless to say – we can't wait to see how this turns out.
Have a tip we should know? tips@mediaite.com