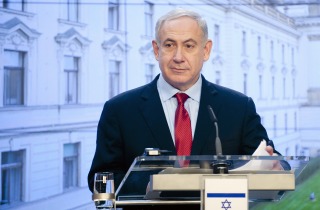 According to a Wall Street Journal report out tonight, Israel spied on private talks the United States held with Iran over its nuclear ambitions, and used the inside information in an attempt to lobby members of Congress against the deal.
The report cites current and former U.S. officials, who said Israeli Prime Minister Benjamin Netanyahu wanted to gain inside information on the talks in order to effectively develop a competing narrative. In addition to spying, WSJ reported, Israel also "acquired information from confidential U.S. briefings, informants and diplomatic contacts in Europe."
Obama Administration officials, though, were more concerned with the fact that Israel was allegedly sharing inside information with members of Congress to mobilize support against a potential deal.
"It is one thing for the U.S. and Israel to spy on each other," one official told the WSJ. "It is another thing for Israel to steal U.S. secrets and play them back to U.S. legislators to undermine U.S. diplomacy."
And here's how the U.S. figured out Israel was snooping on their talks:
"The White House discovered the operation, in fact, when U.S. intelligence agencies spying on Israel intercepted communications among Israeli officials that carried details the U.S. believed could have come only from access to the confidential talks."
Israeli officials, for their part, denied "spying directly" on American negotiators, and said they received the confidential information in other ways:
"These allegations are utterly false. The state of Israel does not conduct espionage against the United States or Israel's other allies. The false allegations are clearly intended to undermine the strong ties between the United States and Israel and the security and intelligence relationship we share."
You can read the full WSJ report HERE.
[Image via Shutterstock]
— —
>>Follow Andrew Desiderio (@forza_desiderio) on Twitter
Have a tip we should know? tips@mediaite.com