REPORT: Melania Trump 'Will Reevaluate' Plans, May Not End Up Moving Into White House After All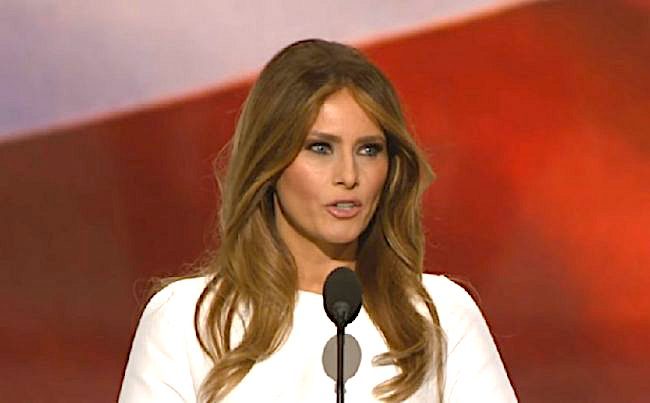 We may soon be able to add yet another thing to the long list of broken presidential traditions.
US Weekly reported minutes ago that First Lady Melania Trump and her family are reconsidering leaving New York City, where she and her ten-year-old son Barron have arranged to stay through the school year. President Donald Trump recently spoke about the unusual arrangement, indicating that perhaps it was best for his wife and youngest son to stay in Manhattan for the time being. During a recent interview with ABC's David Muir, the issue came up about loneliness in the White House without his immediate family right around him.
DAVID MUIR: Does it make it a lonely place for you, at the end of the day?

PRESIDENT TRUMP: No, because I end up working longer. And that's okay. I mean I'm working long hours. I mean the country has a lot of problems. It has a lot of problems. And yes, Barron's getting out of school in another three months. And to take him out now is very unfair. He's very young. Very — very, very young. And people think because he's so tall that he's 16 years old. But he's 10. He just turned 10. But he's a great boy. But we wanted him to finish up school where he is.

DAVID MUIR: And then he'll come to the White House?

PRESIDENT TRUMP: And then he comes to the White House, yes.

DAVID MUIR: Are you looking forward to it?

PRESIDENT TRUMP: I do, very much so.

DAVID MUIR: I would imagine it would get a little lonely.

PRESIDENT TRUMP: It's a big house. But there's always plenty to do.
A source tells US Weekly, "They will reevaluate toward the end of the school year if they will keep this arrangement or if Melania and Barron will move to Washington… They could go either way right now. They will ultimately do what's best for Barron."
POTUS has previously revealed in interviews that his wife and son will join him in our nation's capital "on weekends," while Barron completes his school year. The source continued telling US Weekly that although Melania Trump has not been active in Washington D.C. since the inauguration, the First Lady has kept herself busy. "Melania is actively building her team, including hiring a chief of staff, a senior adviser and a social secretary, among other key positions," the source said. "While [Melania Trump] is a mom first, she is very much embracing the role and responsibilities of first lady."
Of course, popping down to Washington D.C. from Manhattan is easier for the first family then it would be for the rest of us nobodys who need to rely on the Acela or MegaBus; the trip takes less than an hour-and-a-half via flight.

UPDATE 11:58 PM ET: It is now being reported that Mrs. Trump will indeed move to the White House once the school year is done and she's now hired her chief of staff.
Have a tip we should know? tips@mediaite.com