Report: News Of Schwarzenegger 'Love Child' Leaked By Maria Shriver's People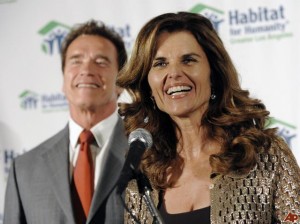 You can always count on TMZ to – if one may be permitted to weave a particularly unsavory metaphor right about now – lift the motel linoleum out from under a dead hooker's decaying body to go after the juicier aspects of a headline-spewing story. The news organization's founder, Harvey Levin, recently crafted a series of Tweets taking CNN to task for holding a hypocritical stance when it came to reporting the identity of the former housekeeper with whom Arnold Schwarzenegger had an extra-marital affair and, up until this month, a secret child. And Levin was able to do this not because TMZ itself has a strict ethical code revered by the media and public at large, but because, by staying true to its own standard, TMZ has been able to own this story.
TMZ, for instance, reported early this morning that the existence of Schwarzenegger's "love child" was leaked by people representing none other than the former governor's estranged wife, Maria Shriver. Does this add an interesting – if not relevant and newsworthy – wrinkle to a very sensational story? Yes, indeed. And it's not something that would likely have been reported to a source like Reuters or, say, CNN.
From TMZ:
TMZ has new information from sources connected to Maria. We're told when Maria found out that Arnold was the father of Mildred Patty Baena's son, she was "hysterical" and wanted to hold a news conference blowing the lid off the scandal.

We're told Maria's friends talked her off a ledge and a plan was eventually hatched to leak the details to the L.A. Times and TMZ.

And we have new information about when Maria found out about the baby. Now we're told Maria learned about Arnold's love child in late April or very early May.

The timeline further supports the story TMZ broke earlier — that Maria was miserable in her marriage and wanted out for a long time. As we first reported, Maria was looking at pricey L.A. condos back in January with a Beverly Hills realtor.
h/t TMZ
Have a tip we should know? tips@mediaite.com