REPORT: Paul Ryan's Days as Speaker of the House Could Be Quickly Coming to an End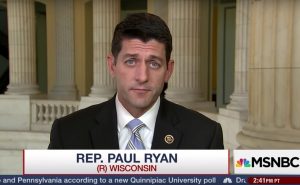 According to a new report from The Hill, "[c]hatter is growing louder," that House Speaker Paul Ryan may soon be stepping down.
The embattled leader of the Republican Party has faced unprecedented scrutiny and pressure in his role trying to unite the fractured party and conservative movement amid the contestable candidacy of Donald Trump. Many have met Ryan's will-he-won't-he-endorse game with criticism, and House GOP members are reportedly growing more certain that the 46-year-old Wisconsin pol will soon be out.
The Hill cites four members of the House who say that they expect Paul Ryan to step down after the election, "arguing that he faces a daunting path to the 218 votes he needs to win a full two-year term leading the House GOP."
Ryan, to be clear, actually would face two rounds of voting en route to becoming House Speaker again. The first vote is on November 15th (one week after the election), in a vote that he is expected to win easily as it only requires a simply majority of the Republican conference. But it is the second vote — on January 3rd — that potentially could be problematic for the Speaker. To maintain control of the Speaker's gavel, Paul Ryan would need 218 votes, a daunting task according to insiders given the contentious climate over the party at this time.
In addition to the ten Republicans who did not support Paul Ryan last time, the GOP is also expected to lose between 10 and 20 seats in next week's election according to The Hill, a prospect that would jeopardize Ryan's chances of finding success on January 3rd.
AshLee Strong, Ryan's spokeswoman, said, "He is running. The Speaker's only focus until Election Day is defeating Democrats and protecting our majority, and nothing else."
And it's not only the fringe Freedom Caucus members of the House calling for an ouster. "[S]ome more mainstream Republicans from safe GOP districts could pull their support over Ryan's handling of GOP presidential nominee Donald Trump, lawmakers said," The Hill writes.
"Speculation is growing that Paul will not return," said one House Republican.
One Freedom Caucus member put it bluntly, noting there is a, "25 percent chance Ryan is Speaker in the 115th Congress… His unfavorability among Republicans is around 68 percent. If Hillary wins, he will surely take a good share of the blame among Trump supporters."
[h/t The Hill]
—
J.D. Durkin (@jiveDurkey) is an editorial producer and columnist at Mediaite.
Have a tip we should know? tips@mediaite.com