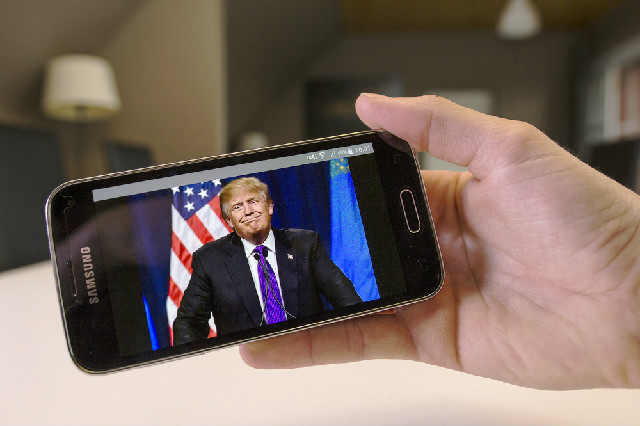 In a New York Times piece on President Donald Trump getting used to living in the White House, it was revealed that the new president is still using an unsecured cell phone.
Reporter Maggie Haberman spoke with Trump over the telephone on Tuesday night for the article and noted that Trump raved about the phones in the White House itself.
"These are the most beautiful phones I've ever used in my life," Mr. Trump said in a telephone interview on Tuesday evening.

"The world's most secure system," he added, laughing. "The words just explode in the air." What he meant was that no one was listening in and recording his words.
She pointed out that Trump told her that his mornings are spent much like when he was at Trump Tower. He gets up around 6 AM, turns on cable news and browses through a handful of newspapers. However, his morning meetings begin earlier now that he's POTUS, so it has cut into his TV time in the AM. It was also noted that Trump doesn't read books and spend his evening watching television.
Of course, the big revelation in the piece was that Trump is in possession of his old Android phone — much to the dismay of certain aides — which he uses to send out tweets to his personal Twitter account. Haberman highlighted that he was watching TV last night when he tossed off a tweet from that phone reacting to a segment he saw on Fox News.
Mr. Trump's wife, Melania, went back to New York on Sunday night with their 10-year-old son, Barron, and so Mr. Trump has the television — and his old, unsecured Android phone, to the protests of some of his aides — to keep him company. That was the case after 9 p.m. on Tuesday, when Mr. Trump appeared to be reacting to the Bill O'Reilly show on Fox News, which was airing a feature on crime in Chicago.
Last week, just before Trump's inauguration as the 45th President of the United States, it was reported by the Associated Press that Trump had given up his Android for a new secured one.
[image via Shutterstock]
–
Follow Justin Baragona on Twitter: @justinbaragona
Have a tip we should know? tips@mediaite.com