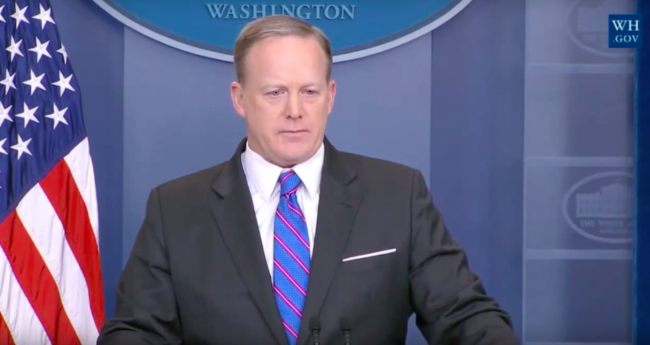 Was White House press secretary Sean Spicer briefly banned from Air Force One?
Journalist Michael M. Grynbaum made the claim in a March 6 story for the New York Times, titled Sean Spicer Meets the Press. No Cameras Allowed, Again. While the article was nominally about Spcier's growing aversion to televised briefings, buried deep below the lede was the following nugget:
On Friday, Mr. Spicer was among the group of Mr. Trump's senior aides temporarily banished from Air Force One after Mr. Trump erupted at his staff in frustration during an Oval Office meeting.
The meeting referred to was almost certainly a contentious expletive-laden affair that Trump led among his senior staff shortly before launching into his now infamous tweetstorm accusing his predecessor, Barack Obama, of wiretapping his home in Trump Tower.
Since his first day on the job berating the press about Trump's inaugural crowd size, rumors have circulated widely that Spicer's relationship with the President has been strained.
[image via screengrab]
Have a tip we should know? [email protected]