Report: Trump Is Aware of More Disastrous Revelations Emerging: They 'Have More Things'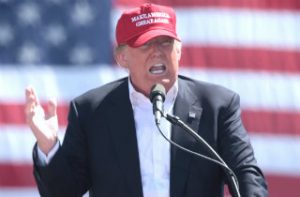 As the fallout continues from the 2005 leaked audio that shows Republican nominee Donald Trump speaking about freely grabbing women as a result of his powerful stature and status, we are learning that this may just be the beginning of a troubling month for the Trump campaign.
The Washington Post first published the audio Friday afternoon, which is from an off-the-air conversation on a hot mic between Trump and Access Hollywood's Billy Bush. Fox News's Ed Henry took to Twitter a short while ago to reveal that as per a conversation he had with former GOP candidate Dr. Ben Carson, there may be more October surprises ahead.
.@RealBenCarson told me he spoke to @realDonaldTrump this am: "He's not going anywhere. He told me he is staying in." More top 2pm @FoxNews

— Ed Henry (@edhenry) October 8, 2016
.@RealBenCarson told me he & @realDonaldTrump talked about more revelations coming: "They have have more things & they will drip them out"

— Ed Henry (@edhenry) October 8, 2016
"They will drip out," writes Henry about the revelations.
The Trump campaign has largely been huddled together at Trump Tower in Manhattan throughout the day dealing with their plan of attack moving forward. Tomorrow night is the second presidential debate between Trump and his Democratic rival Hillary Clinton live from the campus of Washington University in St. Louis, and the Clinton camp has said that the Democratic nominee herself will avoid offering comment on the developments until the start of the debate.
Trump himself has lost a stunning number of endorsements in the hours since the leak of the tape. Utah Congressman Jason Chaffetz and New Hampshire's Kelly Ayotte are two of the bigger names to withdraw their support for Trump's candidacy, with many more likely to follow this weekend.
Have a tip we should know? tips@mediaite.com