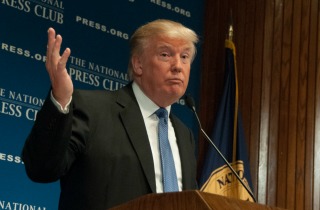 News outlets were intrigued that Donald Trump paid a visit to the 9/11 Memorial Museum this weekend in lieu of appearing on any of the Sunday shows. The mogul made a hefty first-time donation of $100K, but it seems to have prompted a look into his other charitable acts, and the initial reports are underwhelming by billionaire standards.
The Washington Post analyzed a compilation of nearly 5,000 contributions that Trump's campaign says he made from 2009 to 2014. Trump has stated in the past that his charitable donations come out to approximately $102 million within that period of time.
While the examination turned up a multitude of gifts from the Donald J. Trump Foundation, a check from the mogul's personal bank account was conspicuously absent. Instead, it seems that Trump offered free rounds of golf at his courses for charity auctions and raffles, and the bulk of the money the Foundation gave out came from outside parties.
Of note is the fact that many of the gifts offered by the foundation went to organizations that did business with the mogul or paid to hold their events at his venues. WaPo also reported that more than half of the $102 million came from unspecified "conservation easements" to waive development rights on his properties.
Allen Weisselberg, chief financial officer of the Trump Organization, was asked about the analysis, and he said that the reason Trump's donations were missing was because the compiled list was incomplete.
This is not the even the first time Trump's philanthropy has been called into question, seeing as how RedState noted that Trump didn't donate to any legitimate charities in the immediate aftermath of the World Trade Center's destruction in 2001.
[image via shutterstock]
— —
>> Follow Ken Meyer (@KenMeyer91) on Twitter
Have a tip we should know? tips@mediaite.com