Report: White House, Nunes Shut Down House Intel Meetings to Block Testimony From Sally Yates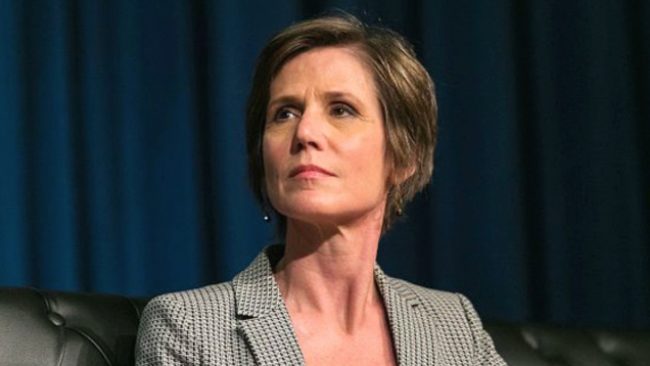 A new report is suggesting that Devin Nunes (R-CA) cancelled a week of House Intelligence Committee meetings after the Trump administration tried to prevent former acting attorney general Sally Yates from giving testimony on the probe into President Trump's connection to Russia.
Nunes faces calls to resign as chairman of the committee, and Yates was scheduled to appear in Congress today to talk about Michael Flynn's resignation as Trump's National Security Adviser. Yates previously warned the White House that Flynn might have exposed himself to blackmail due to the mischaracterized conversations he had with Russian Ambassador Sergey Kislyak.
The Washington Post released an article about these developments today, and it cited documents indicating that the White House wanted to invoke executive privilege to limit Yates' testimony. This comes after Yates was fired by the Trump administration because she stated that she wouldn't defend Trump's travel-ban executive order in court.
Top House Intelligence Committee Democrat, Congressman Adam Schiff, reacted to the news by asking that Yates be allowed to testify. This comes after Schiff joined those asking Nunes to recuse himself from the investigation:
Was today's open hearing cancelled because WH did not want Sally Yates to testify re Gen Flynn's deception? Didn't want to assert privilege? pic.twitter.com/qO63IfPtAP

— Adam Schiff (@RepAdamSchiff) March 28, 2017
The White House responded to the story by insisting that they never took action to stop Yates from speaking:
Statement from White House on Washington Post story concerning Sally Yates: pic.twitter.com/tur7D06vLS

— Zeke Miller (@ZekeJMiller) March 28, 2017
[image via Wikimedia]
— —
>> Follow Ken Meyer (@KenMeyer91) on Twitter
Have a tip we should know? tips@mediaite.com