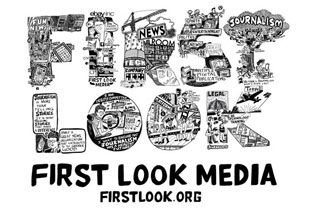 Ken Silverstein, an investigative reporter for First Look Media's The Intercept, announced his resignation yesterday in a series of scathing Facebook posts calling his former employers a "pathetic joke".
"You know what's cool about being a former employee of First Look/The Intercept?" Silverstein, who worked for the doomed Racket before being transferred to The Intercept, wrote on his page, as reported by Romenesko.com. "That Glenn Greenwald, Jeremy Scahill, Betsy Reed and Pierre Omidyar all believe in Free Speech and the First Amendment so they won't mind my writing about my time working for and with them. Tentative title: 'Welcome to the Slaughterhouse.'"
"The fact that that it hired so many talented people to create Racket and spent millions of dollars on it and in the end fired everyone and Racket never published a single story is probably the greatest squandering of money and example of criminal ineptitude in the history of modern journalism," he continued. "Again, what a pathetic joke."
He went on to describe the the death of The Racket, which sounds dismal:
I won't repeat that whole story but I will say that after the company forced Matt Taibbi to resign — and they left him no choice — and then told the rest of the staff that perhaps we could all continue working on a version of Racket without Matt. None of us really believed it and in the end it was clear FL had no intention of proceeding with such a project, it just a game it played so Pierre Omidyar and other people in the corporate leadership would look like they seriously cared about the Racket staff when in fact they clearly didn't…

Then, when the company pulled the plug some months back, it fired the remaining staff and told them to clear out of the office immediately, that very day, to take their things and get out and FL would generously give them one month severance. I am pretty sure the Koch Brothers treat fired workers with greater respect.
He didn't have kind words for Academy Award winner Greenwald, either:
But let me just say that while I admire them both, Matt is definitely more likable than Glenn. Glenn's role at FL is troubling in some ways, especially standing by silently (as far as I can tell) and tolerating the terrible actions of corporate management. Glenn's work is excellent but Matt would never put up with the bullshit from management that Glenn has.
And Omidyar got painted as a hypocrite and a coward:
When we were all at Racket, we joked that we should have the courage to write whatever we wanted and not worry about whether FL liked what we did or whether we offended potential future employers. And at bottom, that is the true formula to produce fearless, independent journalism. You will never produce fearless, independent journalism if you live in fear of angering your media boss and pull your punches to please him/her, or to please your sources or even your friends.
"My prior posts reflect the anger and disillusionment I feel towards the company, and my anger and disillusionment is shared by many former employees," he later explained. "I am one of a many employees who was hired under what were essentially false pretenses; we were told we would be given all the financial and other support we needed to do independent, important journalism, but instead found ourselves blocked at every step of the way by management's incompetence and bad faith…."
That said: "it is amazing how good it feels not to work for The Intercept."
[Jim Romenesko]
[Image via screenshot/First Look]
—
>> Follow Tina Nguyen (@Tina_Nguyen) on Twitter
Have a tip we should know? tips@mediaite.com