Reporting Legend Christopher Harper Destroys Al Jazeera for Lifting 'Old Soviet Propaganda Handbook'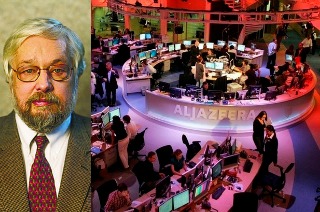 Reporter and professor Christopher Harper knows journalism. As a reporter for Newsweek, he served as the magazine's Beirut bureau chief from 1979 to 1980 where he covered that country's civil war. He was expelled from Iraq in 1980 for coining the term "The Butcher of Baghdad" to describe Saddam Hussein. Harper served as ABC News Cairo bureau chief in 1981 where he was also expelled for reporting on Anwar Sadat's problems with the Islamic militants who would assassinate him weeks later. Harper and his reporting team were nominated for two Emmy awards before he joined ABC's 20/20 in 1986 where he worked until 1995. The accomplished reporter has been teaching journalism since then, first at New York University and later at Temple University.
Detailing Harper's background is important because it lends even more gravity to his sharply worded criticism of Al Jazeera America in National Review. Criticism is, in fact, a feeble term to describe Harper's evisceration of the American arm of the Qatar-based reporting outfit. Harper's critique is cutting and comprehensive. He takes issue with institutional and mechanical aspects of Al Jazeera's approach to television news, but he also criticizes the network from a 30,000 foot perspective. Harper identifies a lack of originality in what he perceives to be Al Jazeera's anti-American mission. Twice, he was transported to the old Soviet Union where anti-American propaganda broadcasts about the United States often focused on systemic poverty, racial tensions, and mistreatment of a ballooning prison population. He does not seem pleased that Al Jazeera is resurrecting these tired propagandist themes, but at least their lack of originality means that it requires slightly less intellectual energy to unpack them.

RELATED: Despite Assurances, Al Jazeera America Still Feeling Like Another Liberal Network
"In AJAM's Nightly News program, anchored by John Seigenthaler, who left NBC News in 2008, AJAM provided little to excite its viewers," Harper wrote. "As I took notes about the program, I scribbled a variety of expletives, which I cannot repeat here, about the coverage of a hunger strike at a California prison, where the authorities were force-feeding 130 inmates. I remember that the prison meme, along with crime and racial strife, dominated Soviet television coverage of the United States."
"And the anti-American undercurrent didn't stop there," Harper continues. "The intrepid AJAM team found Bangladeshi workers in allegedly substandard conditions making pants for Old Navy, which again allegedly ended up in the United States."
"The broadcaster said proof existed for these claims, such as a pair of pants actually being sold somewhere in the United States," he adds. "But no footage of the store or the pants was shown. I guess physical proof was hard to come by."
Harper later mocks Al Jazeera's reporters who opened a lead report on Egypt for the network's flagship evening news broadcast by making themselves the focus of the story.
Much of the story featured the reporter in the back seat of an automobile telling the audience how dangerous it was. I served as ABC News bureau chief in Cairo starting in –1980 and spent nearly a decade covering terrorism and wars for ABC and Newsweek. Of course it's dangerous! Three journalists and more than 1,000 other people died in Egypt during the past week. Journalists need to talk about the story, not their safety.
He goes on to slam the network for shoddy reporting and underplaying or ignoring facts that would complicate the streamlined narrative of American or capitalistic injustices.
If AJAM is really about news, it needs a serious rewind. That's unlikely to happen anytime soon. For example, America Tonight has started a multipart series on gangs in Chicago. The first part, which aired yesterday evening, touched the usual themes — the prevalence of drugs, guns, and poverty.
"That's another page out of the old Soviet propaganda handbook," Harper writes. "Show the economic disparity between blacks and whites. In fact, most gang members in Chicago are thugs the city can no longer control. But at least the reporter got out of his car to speak with some of the good guys and the bad guys."
This striking condemnation of Al Jazeera and its mission was mitigated by only one parting compliment: "I did think the sets looked nice," Harper conceded.
Read the full piece via National Review
—
> >Follow Noah Rothman (@NoahCRothman) on Twitter
Have a tip we should know? tips@mediaite.com