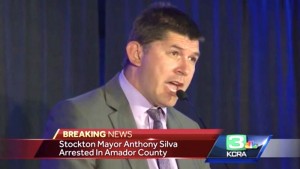 The Republican mayor of Stockton, California may have just seen his political career go all in to the crapper and get royally flushed. Mayor Anthony Silva was arrested Thursday on charges related to a game of underage strip poker at a summer camp Silva hosts. What charges? That's where the story gets really creepy:
According to the Amador County District Attorney's Office, Silva's cellphone was seized by the FBI and investigators zeroed in on four videos and 23 photos. The clips were apparently taken during Silva's 2015 youth camp at Silver Lake.

In a press release by the DA, investigators describe what was discovered on one video clip:

"In one of the video clips, it appeared that moments after the video began, the phone was set down, darkening the camera lens and thus only containing audio. That clip contains audio of a conversation between participants involved in a strip poker game that occurred in Silva's bedroom. The conversation between the participants indicated that they were naked. One of the participants was a 16 year old male. The audio of the surreptitious recording clearly indicates that the participants did not want to be recorded. Witnesses also informed FBI agents that Silva provided alcohol to the participants, all of whom were underage, including a minor. Witnesses stated that Silva had supplied alcohol and made it available to a number of underage counselors at camp."
Silva's attorney questioned the charges as politically timed, and insists his client will be cleared.
Watch the report on Silva's arrest above, from CBS Sacramento.
Have a tip we should know? tips@mediaite.com