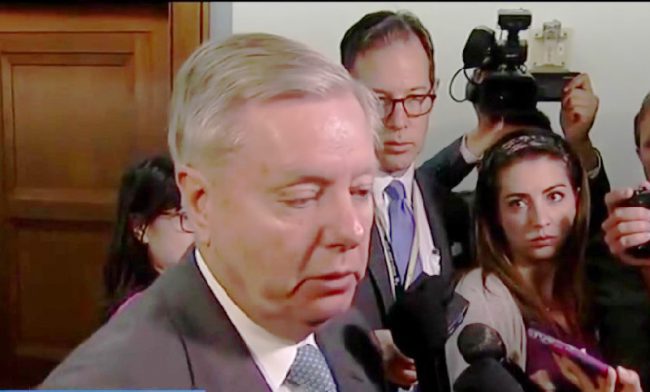 Republican lawmakers, commentators, and Twitter eggs joined the collective outrage at President Donald Trump's tweet attacking MSNBC's Mika Brzezinski and claiming she was bleeding following a facelift.
Trump sent off the following set of tweets Thursday morning, likely due to frustration over Morning Joe's critical coverage of his presidency:
I heard poorly rated @Morning_Joe speaks badly of me (don't watch anymore). Then how come low I.Q. Crazy Mika, along with Psycho Joe, came..

— Donald J. Trump (@realDonaldTrump) June 29, 2017
…to Mar-a-Lago 3 nights in a row around New Year's Eve, and insisted on joining me. She was bleeding badly from a face-lift. I said no!

— Donald J. Trump (@realDonaldTrump) June 29, 2017
Now, we can cue the cycle that regularly follows an outrageous comment from Trump: a band of dignified Republicans distance themselves from the president's comments — before eventually returning home to his warm embrace.
Sen. Lindsey Graham, Trump's most reliable scourge on the right, kicked things off, calling the president's tweet "beneath the office":
Mr. President, your tweet was beneath the office and represents what is wrong with American politics, not the greatness of America.

— Lindsey Graham (@LindseyGrahamSC) June 29, 2017
Paul Ryan on bleeding facelift tweet: "obviously I don't see that as an appropriate comment"

— Jon Levine (@LevineJonathan) June 29, 2017
This has to stop – we all have a job – 3 branches of gov't and media. We don't have to get along, but we must show respect and civility.

— Sen. Susan Collins (@SenatorCollins) June 29, 2017
This is not okay. As a female in politics I am often criticized for my looks. We should be working to empower women. https://t.co/sV6WDE0EUD

— Lynn Jenkins (@RepLynnJenkins) June 29, 2017
MCCAIN on Trump's Tweets this morning: "It's hard to understand, and not presidential…"

— Frank Thorp V (@frankthorp) June 29, 2017
Please just stop. This isn't normal and it's beneath the dignity of your office.

— Ben Sasse (@BenSasse) June 29, 2017
Mr. President, it is incumbent upon ALL of us to tone down this divisive political rhetoric. #RestoreCivility ➡️ https://t.co/Ky5nquKO2V

— Adam Kinzinger (@RepKinzinger) June 29, 2017
On the President's tweets this morning → pic.twitter.com/tJJqsV8KCb

— Sen. James Lankford (@SenatorLankford) June 29, 2017
Personal attacks & character assassination yield a culture of social & political violence in which people can become radicalized & dangerous

— Carlos Curbelo (@carloslcurbelo) June 29, 2017
"It's incumbent on all of us, then — from the President to Congress on down — to be responsible for our speech." https://t.co/BVVKFll3Sj

— Senator Hatch Office (@senorrinhatch) June 29, 2017
GOP Sen. Shelley Moore Capito tells me President Trump's tweets on Mika were "distasteful"

— Arlette Saenz (@ArletteSaenz) June 29, 2017
I do not think making fun of a woman's looks is acceptable. I get it every day of my life. I think that tweet is cruel – and unpresidential

— Meghan McCain (@MeghanMcCain) June 29, 2017
I remember when Republicans were outraged if someone didn't wear a tie in the Oval Office. Now the commander-in-chief tweets about facelifts

— Erick Erickson (@EWErickson) June 29, 2017
There's no such thing as rock bottom pic.twitter.com/SiLCnEHCvI

— Leon Wolf (@LeonHWolf) June 29, 2017
Seriously dude, SHUT UP https://t.co/hki1FgzEfl

— Ben Shapiro (@benshapiro) June 29, 2017
Here is a list of all the important policy priorities Trump advanced today by attacking Mika Brzezinski's bleeding face-lift:

— Ben Shapiro (@benshapiro) June 29, 2017
Dear @realDonaldTrump,

You are a pig.

Sincerely,

Bill Kristol https://t.co/2IG7yXmCs4

— Bill Kristol (@BillKristol) June 29, 2017
[image via screengrab]
—
Follow Aidan McLaughlin (@aidnmclaughlin) on Twitter
Have a tip we should know? tips@mediaite.com
Aidan McLaughlin - Editor in Chief