Reuters Op-Ed Blames GOP's Failure To Win Popular Vote In Presidential Elections On Rush Limbaugh
Reuters Op-Ed Blames GOP's Failure To Win Popular Vote In Elections On Limbaugh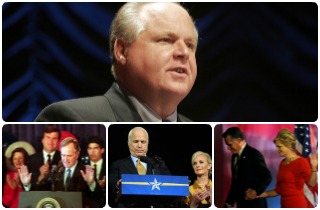 An opinion post in Reuters on Friday savages the Republican Party's base voters, the GOP's modus operandi, and its embrace of conservative media hosts like Rush Limbaugh for the party's failure to win the popular vote in the majority of national elections over the last two decades. The op-ed, authored by Paul Goldman and Mark J. Rozel, establishes a series of "coincidences" and proceeds to link them to the theme that the conservative wing of the GOP has diminished the party's political viability.

RELATED: Limbaugh Goes After Media: 'Isn't It Racist To Assume Obama Would Be Good At Basketball?'
Since Rush Limbaugh's 1992 bestseller "The Way Things Ought to Be," his conservative talk show politics have dominated GOP presidential discourse – and the Republicans' White House fortunes have plummeted. But when the mainstream media reigned supreme, between 1952 and 1988, Republicans won seven out of the 10 presidential elections.
"Conservative talk show hosts and Fox News blame the "lamestream" national media's "liberal bias" for the GOP's poor showing since 1992," the Reuters post reads. "Yet the rise of the conservative-dominated media defines the era when the fortunes of GOP presidential hopefuls dropped to the worst levels since the party's founding in 1856."
"Is it all a coincidence that Democrats' fortunes reversed as Limbaugh and his imitators gained influence?" Goldman and Rozel ask pointedly.
The post goes on to suggest that the Republican Party itself lost its raison d'etre after the Hammer and Sickle was lowered over the Kremlin for the last time on Christmas Day, 1991.
"When the Cold War ended with the Soviet Union's collapse, the Republican formula lost its philosophic basis," the authors note. They said that Bush revived the party's unifying principle briefly after the September 11, 2001, attacks, but this had a short lived rallying effect on the nation.
Finally, the authors note that objective media outlets like broadcast news were "GOP's best friend for several generations." They helped voters see the GOP through a "wide prism," but that advantage is now gone as the conservative wing of the GOP seeks to demonize media through repeated accusations of liberal bias.
Conservatives delighting at the influence of their favorite talk show hosts and the decline of the mainstream media have missed this crucial modern political lesson: The GOP fared best in presidential politics through a nationalizing lens – not narrow-based ideological appeals.
Read the piece via Reuters
> >Follow Noah Rothman (@NoahCRothman) on Twitter
Have a tip we should know? tips@mediaite.com