Rich NYCers: de Blasio 'Trying to Get Us Back' by Not Plowing Wealthy Neighborhoods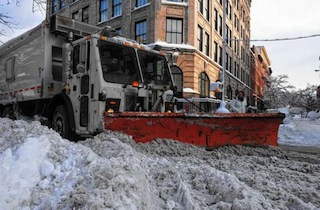 Wellity wellity wellity, how the tables have turned.
A few years ago, the complaints against New York City Mayor Michael Bloomberg were that he was plowing the city streets along class lines, making sure snootier (i.e. his) neighborhoods were clear before sending plows down Flatbush.
But after yesterday's Polar Vortex II: The Vortexening, it was wealthy Upper East Siders carping that newly-elected Trostkyite Bill de Blasio was class warfareing with the city's snowplows. Via the New York Post:
Huge swaths of the city's wealthiest neighborhood had been not been plowed by early Tuesday evening, leaving 1-percenters out in the cold, according to the city's own map of snow-plower activity.

"He is trying to get us back. He is very divisive and political," said writer and Life-long Upper East Sider and mom Molly Jong Fast of Mayor de Blasio.

"By not plowing the Upper East Side, he is saying, 'I'm not one of them.' But we have everyone in this area on the Upper East Side. We have rich people, middle class people, and housing projects. We have it all."
Wait for it…wait for it…here it is:
"What is he thinking? We're supposed to get up to a foot of snow and nobody on the Upper East Side is supposed to blink an eye? I can barely get around and I'm on snow shoes! All of the buses are stuck and can't go anywhere. He's crazy. We need Mayor Bloomberg back!"
This is your semi-monthly reminder that New Yorkers should never, ever talk to the press.
Incidentally, can you guess who was loudly critical of Bloomberg's 2010 storm response?
[h/t NYPost]
[Image via Brian Smith/NYDN]
——
>> Follow Evan McMurry (@evanmcmurry) on Twitter
Have a tip we should know? tips@mediaite.com