Rick Perry, America's Jobs Governor, Promises 1.25M Additional Jobs In 19 Years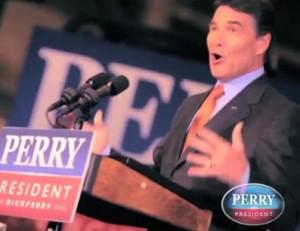 In an email to reporters today entitled "Rick Perry: America's Jobs Governor," Texas Gov. Rick Perry's presidential campaign unveiled a new video that promises, among other things, that as president, he will create 1.2 million new jobs, and that little girls will once again dance with road flares. The campaign also urges supporters to read the full plan. While Republicans block President Obama's plan to create 1.9 million jobs in a year, Perry's plan promises an additional 1.25 million jobs…in 19 years.

Perry released his plan last week, and while I'd heard the broad strokes (oil-oil-oil), it sounded like such nonsense on its face, I confess I didn't give it a deeper look. It would be like Rick Santorum proposing an economic plan based solely on paper towels.
Perry's email, though, with its promise to "create up to 1.2 million jobs," caught my eye, mainly because it's so much less than the 1.9 million jobs that Moody's estimates the President's plan will create over the next year. How long, I wondered, will Perry's plan take to create 700,000 less jobs?
Perry's plan isn't actually clear on that point. In his video, Perry promises to create 1.2 million jobs accross "all sectors of the economy," but his plan is only specific about creating energy jobs: "1.2 million based on various studies."
The only data Perry provides, however, are studies by energy consultants Wood Mackenzie that promise 1.25 million additional energy jobs. The first chart in Perry's plan doesn't say how long it'll take, but rather, where those jobs will come from: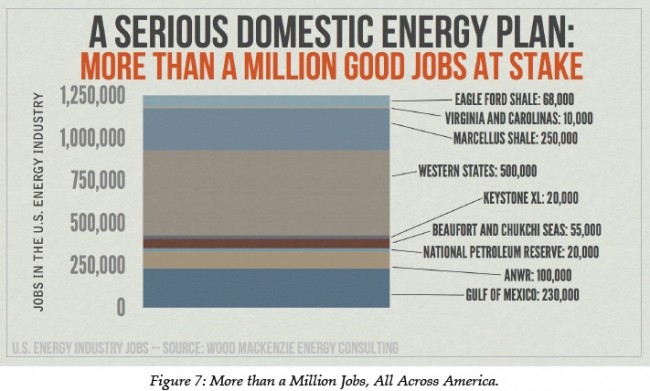 Later in the plan, though, Perry charts those same 1.25 million jobs, compared with estimates based on current policies, through the year 2030: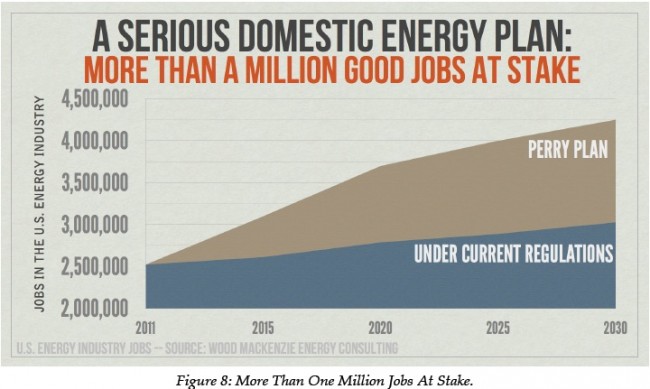 So, President Obama's plan creates 1.9 million jobs a year, and Perry's, about 66,000? Now, I'm willing to allow that there might be some methodological wiggle room between Moody's and Wood Mackenzie, but I don't think 1.8 million jobs is within the margin of error.
Here's the Perry campaign's latest cinematic opus, followed by the full text of their email:
Rick Perry: America's Jobs Governor

AUSTIN – Last week, Gov. Rick Perry unveiled his Energizing American Jobs and Security plan to create up to 1.2 million jobs and reduce our nation's dependence on foreign oil. The Perry campaign today released a video highlighting the governor's comprehensive energy plan, which marks the first part of a broader package of economic reforms that he will present to the American people in the coming days.

To view the video, please visit http://www.rickperry.org/news/video-gov-rick-perry-announces-plan-to-energize-american-jobs-and-security.

The governor's plan is based on one simple premise: make what Americans buy, buy what Americans make, and sell it to the world, and it will boost our economy by deploying American ingenuity to tap American energy.

Gov. Rick Perry is the only candidate in this campaign that has a proven record of job creation, implementing policies that are responsible for creating 1 million jobs in Texas over the last 10 years, while the rest of the nation lost 2.5 million jobs.

For more information about Gov. Rick Perry's record, presidential campaign and plan to get America working again, please visit: www.rickperry.org.
Have a tip we should know? tips@mediaite.com