Rick Perry Attacks President Obama For Fighting LGBT Discrimination And Criminalization Abroad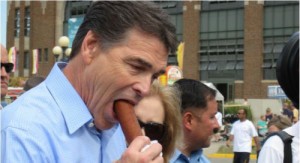 Earlier today, President Obama released a memorandum directing "all agencies engaged abroad to ensure that U.S. diplomacy and foreign assistance promote and protect the human rights of LGBT persons."
GOP former frontrunner Gov. Rick Perry (R-TX) quickly released a statement denouncing the President's action, complete with trademark Perry lies, and a doubling-down on his own zero foreign aid budget.
In introducing his memo, the President said, "I am deeply concerned by the violence and discrimination targeting LGBT persons around the world    whether it is passing laws that criminalize LGBT status, beating citizens simply for joining peaceful LGBT pride celebrations, or killing men, women, and children for their perceived sexual orientation."
Gov. Perry quickly put out a statement that equates the prevention of jailings, beatings, and murders with "promoting" a "lifestyle."
First of all, being gay isn't a "lifestyle" choice, hunting at "N*ggerhead Ranch" is. See the difference? And even as a staunch liberal, I oppose the beating, imprisonment, or murder of Rick Perry simply for being a presidential candidate, but that doesn't mean I'm "promoting" his candidacy, does it?
Perry also makes the unsupported claims that the Obama administration is "at war with people of faith in this country," and that "President Obama has again mistaken America's tolerance for different lifestyles with an endorsement of those lifestyles."
In fact, polling data shows consistent support for gay rights among a large number of Americans (majorities in many cases), and there are many faiths (even Christian ones) that recognize the rights of same-sex couples to marry.
Gov. Perry also used the occasion to promote his much-derided (even among conservatives) zero foreign aid budget, saying, "I have proposed a foreign aid budget that starts at zero. From that zero baseline, we will consider aid requests based solely on America's national security interests. Promoting special rights for gays in foreign countries is not in America's interests and not worth a dime of taxpayers' money."
Now, a lot of Republican candidates have regressive views on gay rights, even downright offensive ones, but I haven't heard any of them yet claim that freedom from murder is a "special right."
In a less-than-LGBT-friendly field, Perry is all the more shocking a hateful anomaly. Decent conservatives are well shot of him.
It will be interesting to see how the other candidates respond to this. While they're all opponents of gay marriage, some (like Mitt Romney) have expressed an interest in protecting LGBT people from other forms of discrimination. Here's hoping they have the decency to defy their culture-war impulses, and the courage to do so publicly.
Here's the full text of Gov. Perry's statement, via email:
Statement by Gov. Rick Perry on Obama Administration's Use of Gay Rights to Make Foreign Aid Decisions

AUSTIN – Gov. Rick Perry today issued the following statement:

"Just when you thought Barack Obama couldn't get any more out of touch with America's values, AP reports his administration wants to make foreign aid decisions based on gay rights.

"This administration's war on traditional American values must stop.

"I have proposed a foreign aid budget that starts at zero. From that zero baseline, we will consider aid requests based solely on America's national security interests. Promoting special rights for gays in foreign countries is not in America's interests and not worth a dime of taxpayers' money.

"But there is a troubling trend here beyond the national security nonsense inherent in this silly idea. This is just the most recent example of an administration at war with people of faith in this country. Investing tax dollars promoting a lifestyle many Americas of faith find so deeply objectionable is wrong.

"President Obama has again mistaken America's tolerance for different lifestyles with an endorsement of those lifestyles. I will not make that mistake."
Have a tip we should know? tips@mediaite.com